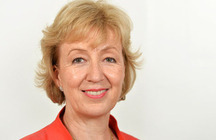 The UK Energy Minister said the government had made clear fracking is a "fantastic opportunity" for the country after an application by Third Energy was approved.
Andrea Leadsom spoke after councillors in North Yorkshire approved the company's application to frack for shale gas at an existing drilling site near the village of Kirby Misperton, between Malton and Pickering.
The vote allows Third Energy to frack for shale gas using an existing two-mile deep well – called KM8 – drilled in 2013.
Seven of the 11 North Yorkshire County Councillors on the committee voted in favour of the application.
The politician said the decision to allow the move had been made by the local council but that it was "good for jobs, the economy and strengthens our energy security".
She said:"We already have tough regulation in place to ensure that fracking is safe. We are now looking forward to the safe exploration of shale gas beginning and finding out just how much of this home grown energy supply is available to power our homes and businesses."