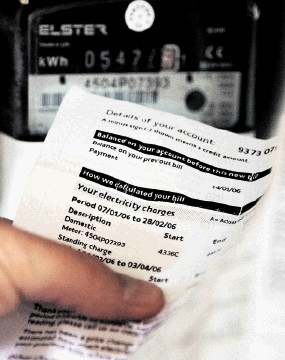 Moves to help consumers use energy when it is cheapest and receive money for returning power to the grid have been unveiled by the Government.
The plans include measures to help develop smart appliances which respond to the grid, for example washing machines that come on at off-peak times when power is cheaper.
They set out how Government, regulator Ofgem and the industry are rolling out smart meters and will bring in "smart tariffs" for consumers to pay less for off-peak power.
And they outline plans for standards for electric vehicle charging points so consumers can charge their cars when demand is low and be paid for feeding power from cars back to the grid.
As storing power from intermittent renewables for when it is needed becomes more important, the measures also include changes to network charges to provide a level playing field for storage such as batteries.
Analysis suggests that deploying "flexible technologies" including batteries and smart grids could save the UK energy system between £17 billion and £40 billion by 2050.
Examples of new technological developments which are already being trialled include Nissan looking at ways electric vehicles can be used as a "virtual power plant" when plugged in to supply the grid.
British company Moixa is paying households £50 a year for deploying home batteries, which help manage electricity demand on the network by charging up when there is surplus power on the grid and exporting it when demand is high.
A trial with Northern Powergrid near Barnsley is linking up 40 home batteries supplied by Moixa, to relieve pressure on the power network and enable more homes to install solar panels without having to upgrade local networks.
And on the Scilly Isles, a £10.8 million project is being developed to enable home batteries and electric vehicles to help balance supply and demand within the islands' energy system to boost renewables and cut bills by 40%.
Business and Energy Secretary Greg Clark said: "Upgrading our energy system to make sure it is fit for the future is a key part of our Industrial Strategy.
"A smarter energy system will create opportunities to reduce energy costs, increase productivity and put UK businesses in a leading position to export smart energy technology and services to the rest of the world."
Andrew Wright, senior partner, energy systems at Ofgem, said: "We want to open the door to new technologies and services so that they can help to reduce bills for consumers in the long term.
"It is vital that we get the changes in place as there is potential for a smarter system to save consumers billions between now and 2050."
Recommended for you

Is a new global oil supercycle looming?