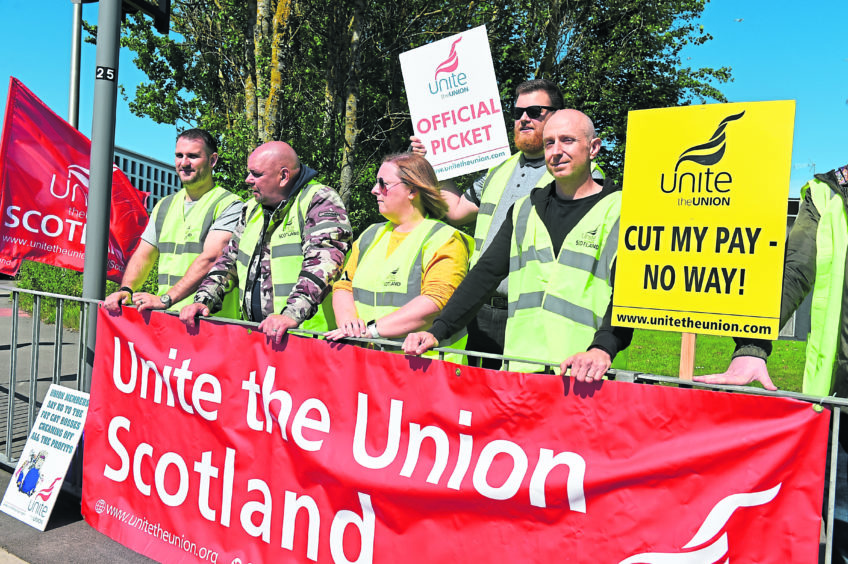 Airport bosses insisted it was "business as usual" in Aberdeen on Friday despite hundreds of staff downing tools in a dispute over pay and pensions.
Around 150 workers, mainly firefighters and security staff, walked out in various shifts between 4am-4pm, after Unite members voted to take industrial action.
The move was announced by the union last month, as it accused owners AGS Airports of ignoring staff.
The group, clad in hi-viz vests, picketed the road leading to the airport and were given toots of support by multiple cars leaving and arriving.
A similar action in Glasgow had led to disruption with passengers taking to social media to bemoan the hold-ups.
But Aberdeen International Airport's managing director said the strike had minimal impact, with no delays and little queuing.
Steve Szalay said: "It's very disappointing to be in this situation but I think the message to passengers is that it's business as usual.
"Everything has taken off this morning, there's been no delays, there's been no queues, people have come as normal and we've got them back to their families and their friends.
"I wouldn't say there was any panic, I spoke to a lot of customers who were travelling out to Corfu about 6am, and as usual people arrive at about 3-3.30am for a 4am check-in – some of them had been concerned but were reassured because the airport has been saying 'business as usual'.
"There's a lot of people who have worked really hard to save up for that holiday in the sun and thankfully they were able to take off on time, and hopefully they are on the beach by now."
And Mr Szalay said the airport management's door was "always open" to union bosses as the facility prepared for a similar walkout today.
The airport had promised that robust contingency measures were in place, and these included drafting in staff from other airports to cover for the strikers.
Picketers worked in shifts of three and were a visible presence for anyone arriving or leaving the airport.
Shauna Wright, regional organiser for Unite, said they had not received any criticism from the public, and had even been brought food and drink.
She said: "We've had no negativity so far, there has been nothing.
"People have been free to come and go as they please, we're not blocking anyone's way or hindering anyone from getting to and from the airport.
"Our message is very clear and it's very strong – Unite the union want around the table to look for resolution, we want to get this resolved.
"And it's very disappointing to hear the management saying 'it's business as normal', this has impacted on their staff's mental health, their staff should be in there working.
"They've been forced to do this because their employer is creaming off the profits and not having a full and frank discussion with them about their pension."
Recommended for you

OGA prepared to get tough over energy transition