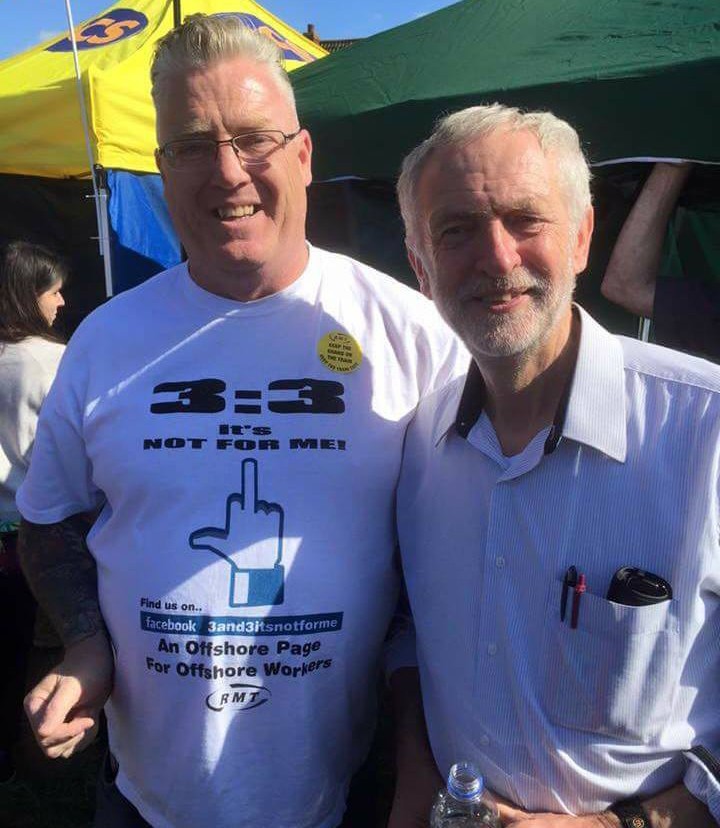 A photograph has emerged of Jeremy Corbyn with his arm around a supporter of a campaign group which is protesting against changes to North Sea shift patterns.
The Islington North MP was seen last weekend with the member of '3:3 it's not for me' at the annual Burston Union rally in Norfolk.
The politician, who won the Labour leadership election on Saturday, is yet to speak in any depth about future policies regarding the offshore sector.
The Labour party refused to comment but RMT regional organiser Jake Molloy said if Jeremy Corbyn was supporting trade unions in their fight against equal time rotas it was "great news".
He said: "Jeremy Corbyn is just one of a quite substantial group of MPs and MSPs that will be lobbied as a means to an address the injustices within the oil and gas industry at this point.
"We are going to try and exploit every possible angle we can to make the concerns of member known.
"If Jeremy Corbyn is supporting us that's great news and we welcome his support."
At a rally in Aberdeen last month during his campaign Corbyn did not mention the North Sea while addressing a packed audience.
He has previously discussed nationalising other parts of the energy sector, including the National Grid, and some commentators have suggested he may not be supportive of tax breaks for the oil and gas industry.
A spokesman for the Scottish Conservatives said: "The reality is oil workers would rather see shift patterns which ensure the viability of their jobs, not fanciful regimes which simply wouldn't work.
"So long as oil firms work within the rules when it comes to shift patterns, most people will respect their ability to come up with a reasonable system."
Earlier this week Argentina's ambassador to the UK described Jeremy Corbyn as 'one of ours'.
The Labour leader has been appointing shadow cabinet ministers since the weekend, recently announcing Lisa Nandy to the role of energy minister.
Recommended for you
X

OPEC says the world will want more of its oil next year