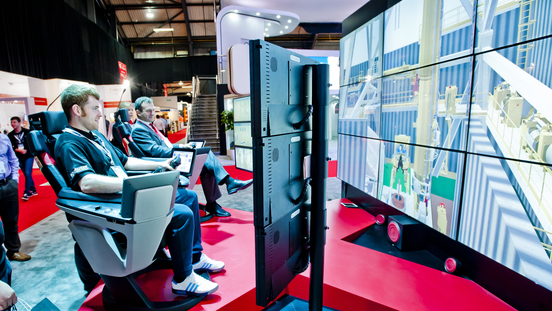 We're entering a new era. It's complex, structured in a very different way to the one we're used to, uses a different language to the one we're used to and is constantly changing.
But, it's also a huge opportunity. Some have coined it the 4th Industrial Revolution, but it's much more. It's automation, data analytics, smart communications, and robotics. It's the cloud and the edge working together; machine learning and smart sensors providing the big as well as the granular picture.
For the oil and gas industry, this opportunity is also a nexus: the cost of these technologies, from sensors to cloud computing, is declining, and connectivity increasing, just as, after nearly four years' work towards regaining profitability at US$40 a barrel, the industry is looking for radical changes to further transform its margins and safety.
There's a prize to be gained. According to Deloitte, even a 1% gain in capital productivity could help offset the cumulative net loss of US$35 billion reported by listed upstream, oilfield services, and integrated companies worldwide in 2016. The World Economic Forum (WEF) estimated in a white paper with Accenture that digitalization has the potential to create around $1 trillion of value for oil and gas firms.
We at ENGenious™ think this is now an opportunity the industry cannot afford to miss. Automation, data analytics, smart communication and robotics are four key areas which will help this industry to retain its historical profitability.
We are on the right road. Robotics is already playing an increasing role in the oil and gas industry, in the form of subsea robotics, drones, and drillfloor systems, to name a few.
Inspection of expansive land and offshore infrastructure for preventive maintenance, fault diagnosis and regulatory compliance, involving repetitive tasks, offers a wide potential for the use of robotics to improve efficiency and data gathering, while reducing risk to personnel.
But we have to be honest: adopting robotics might not be easy. Using robotics in well-construction, for example, has been challenged by process and domain uncertainty, environmental conditions, a diverse supply chain and equipment complexity.
What form the robots we use will take is also very much still evolving. We have to ask the questions "What are robots and what do we want from them?" Can we make use of emerging such as include nano-robotics and meta-robotics? At ENGenious™, in September, we will be looking to answer some of these questions.
We will also be connecting the dots. It is when these world's collide that the real benefits will be realised. For robotics to be truly smart, artificial intelligence (AI) and deep learning need to be utilized, supported by data mining and also data that has been converted from unstructured to structured forms, so that it can be used.
Like robotics, data analytics is not new to the industry; in fact it's been used for decades, in pockets. There is now a growing sense of the potential that data analytics could unlock. This will mean looking at how companies organise themselves; breaking down siloes of data, accessing data science capability, and understanding the role of automation, edge analytics, machine to machine-based analytics, and, of course, cyber-security.
These technologies have the power to revolutionise the sector in the same way as they have financial services, communications and hi-tech and fast-moving consumer goods.
To fully tap this potential, we also need reliable and resilient communications infrastructure. Emerging 5G networks, optical communication, and advanced sub-surface acoustic/EM techniques, are expanding our ability to connect disparate systems, while smart sensors and edge analytics are also increasing intelligence at the edges of the system, so that the information we receive is already filtered.
We have the ability to delve into the corners of our systems, creating a "single truth" from which the big picture and models of the big picture, in digital twins, can be created. Using the digital twin can drive enhanced automation, monitoring and control systems, enabling better condition monitoring, root cause analyses, and preventative maintenance.
Add augmented reality (AR) to this system and the ability to create truly connected operations isn't just in the cloud: plant equipment and procedural instructions can be in the field-technician or maintenance technician's field of view while on site.
Framed this way, digitalization is becoming the new operations theatre, leading to lean productive and safe operations. It also paves the way towards a future with unattended control.
For early adopters, there could be challenges around "legacy" solutions that could be difficult to modify or expand. The operational environment could also pose a challenge, but it's a challenge we're used to. How we handle security, in the digital environment, will also be at the forefront of many minds.
But we are ready to tackle this challenges because overcoming them will give us the opportunity to radically change the way we operate.
For details click here.
Recommended for you

Saipem agrees to 'de-scope' Harland and Wolff NNG contract after 'delays'