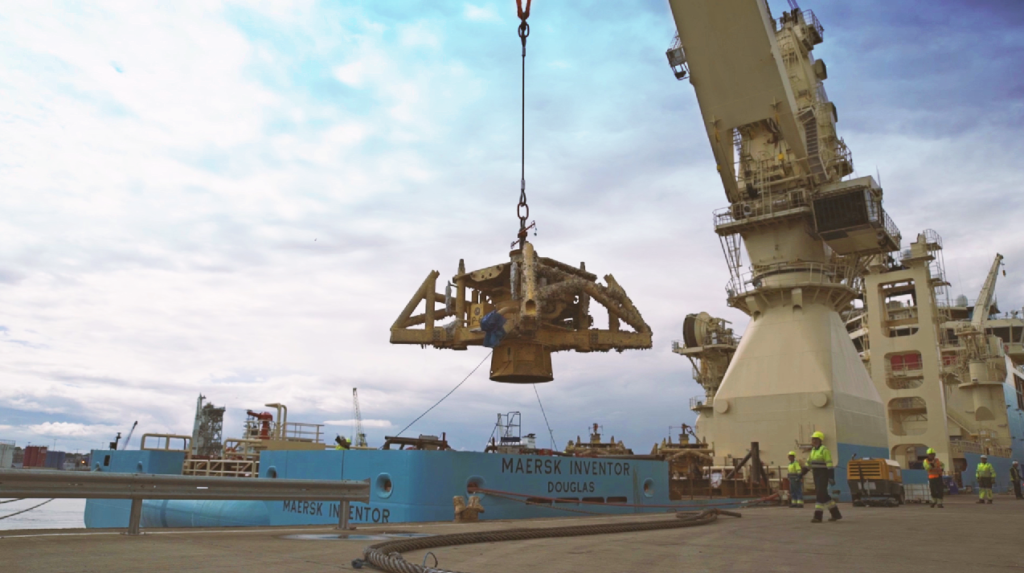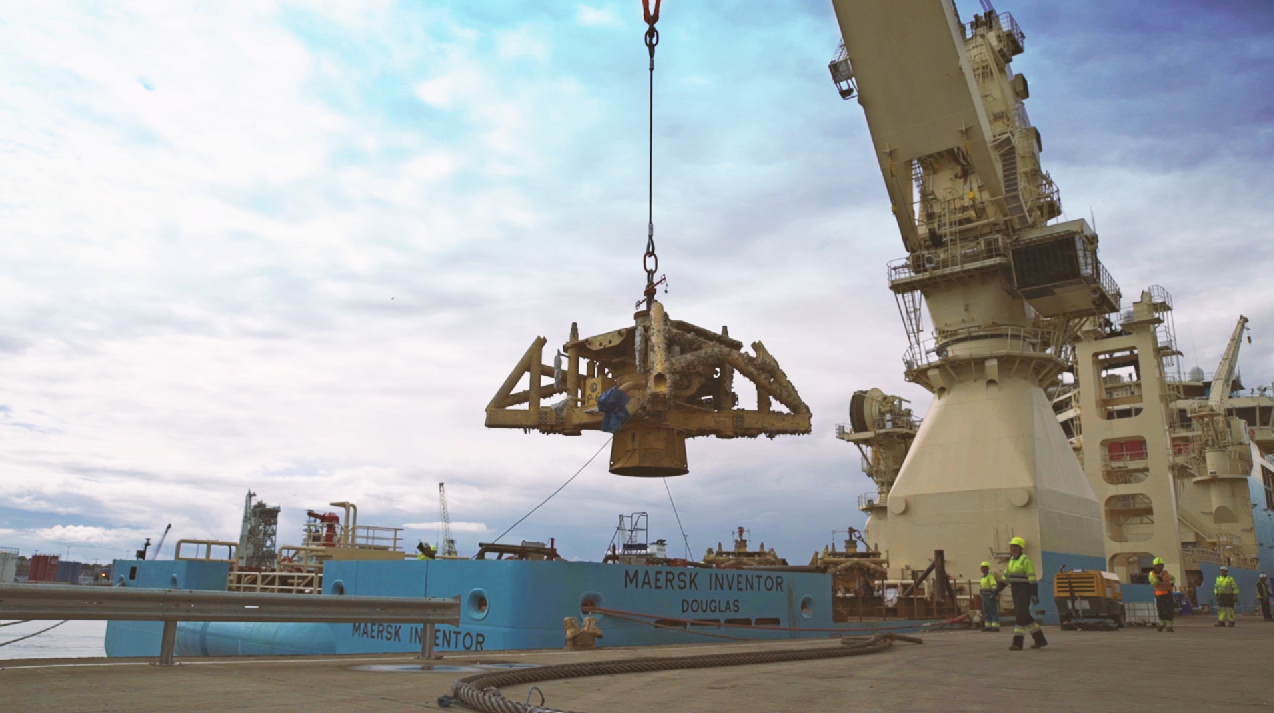 Demand for decommissioning services in Aberdeen Harbour have been steadily growing for several years now – but in 2018 the port has been a hive of decom activity. Nearly 2,000 tonnes of material has crossed the quayside from high-profile projects, such as the Maersk Leadon and Janice, and Shell's Brent Alpha projects. The Harbour has also accommodated materials inbound from Nexen's Plug and Abandonment Programme.
In September, the impressive Maersk Inventor made the first of six port calls into Aberdeen Harbour, carrying materials from decommissioning projects across the North Sea. Since then, the near-15,000 tonne, 137m-long vessel has safely offloaded a range of structures including 48 tonne subsea Christmas Trees, 32 tonne manifolds and ballast blocks, weighing 136 tonnes.
"Our work with Maersk Supply Service is indicative of another year in which decommissioning operations are featuring more regularly at Aberdeen Harbour," commented John McGuigan, Operations Manager at the port. "Our extensive, established supply chain, with its oil and gas expertise and capabilities, makes our port the natural choice for the increased decommissioning activity. The Oil and Gas Authority have estimated that decommissioning will cost around £58 billion, and to succeed in hopes to reduce the figure by 35 per cent to £39 billion, operators must have a trusted, expert and efficient supply chain."
Harbour customers benefit from the port's unrivalled suite of service providers for the recovery and removal of subsea infrastructure. Metal disposal services are supplemented by NORM waste management services, and shipping connections to scrap processors are well established. The harbour is also well situated to allow easy access to trunk road connectivity.
The location of Scotoil within the harbour ensures decommissioning operations are fully compliant with environmental procedures and regulations. Craig Smith, Managing Director of Scotoil, explained: "We are pleased to have performed a large suite of incident-free demobilisation, size reduction, cleaning and disposal operations with Aberdeen Harbour again this year. We look forward to building on our collective success and strengthening our position in the decommissioning sector together."
Transforming the scale of facilities provided within the port, however, has been key to Aberdeen Harbour Board's motivation for its current £350m expansion project.
South Harbour
The substantial increase in scale at Aberdeen South Harbour – in terms of quay length, water depth and heavy-lift capacity – will secure the harbour's ability to support significant heavy lift projects. This capability, combined with the array of service providers that are available, opens a new future for decommissioning in Aberdeen, and further afield.
The South Harbour will allow vessels of up to 300m to berth alongside, with a 6,000 tonne transfer load – and even greater loads are anticipated through engineered solutions.
The recent arrival of the concrete caissons – weighing 6,000 tonnes each – has reinforced the unique proposition South Harbour gives customers with project work on their minds. These caissons are the building blocks for the quaysides which, with state-of-the-art drainage systems and interceptors, will allow the segregation of working quays into independent, dedicated zones. This unique modular system will allow customers to 'lock-down' their activities in a physical and regulatory sense, while also allowing them to define the size of the working area they require, bringing natural cost savings and efficiencies to their shoreside operations.
"We believe that this tailored approach will revolutionise the way in which quayside projects work, especially for decommissioning operations," said Matt North, Commercial Director at Aberdeen Harbour Board.
"The 125,000m² of laydown area can be split into 14 separate zones, each with varying heavy lift capacity, ranging from five tonne/m² up to 15 tonnes/m². We predict a transfer capability of more than 6,000 tonnes which will enable a large proportion of decommissioning material to be brought to the quayside."
Matt continued: "The opening of Aberdeen South Harbour in 2020 will transform our capabilities, and we look forward to supporting more customers in the decommissioning sector."
Recommended for you

North Sea giants win big through INTOG floating wind auction