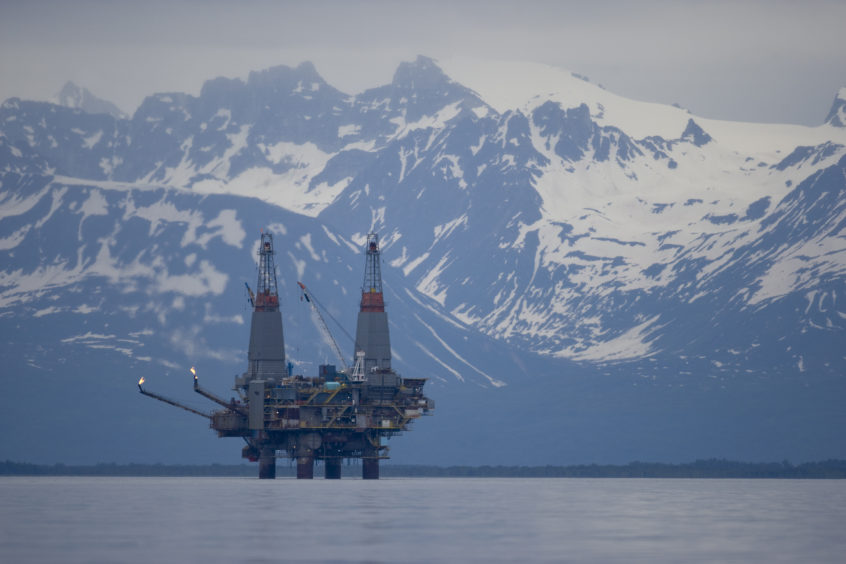 88 Energy Ltd (ASX 88E; LON 88E) this week executed its drilling contract to drill the Merlin-1 and Harrier-1 wells for Project Peregrine on the North Slope of Alaska.
Alaska's North Slope is home to the US's largest two oil fields, and hosts some of the world's biggest discoveries of recent years. This includes both onshore and conventional (not shale) with enormous potential.
With excellent infrastructure and low royalty rates it is a good place to do business.
Project Peregrine has a 1.6 billion barrel mean unrisked recoverable prospective resource. These are located on trend to recent discoveries, which includes one by oil super major ConocoPhillips (NYSE: COP).
The project has multiple compelling targets that are shallow to drill test, meaning relatively low cost drilling.
An independent resource assessment arrived at an unrisked prospective oil resource of over 1.6 billion barrels at Project Peregrine. This covers three prospects: Merlin and Harrier in the Nanushuk formation, plus Harrier Deep located in the deeper Torok formation.
Recent further seismic analysis increased the company's confidence at the Project. This identified several similarities between 88E's Merlin and Harrier prospects and existing discovered oil fields nearby.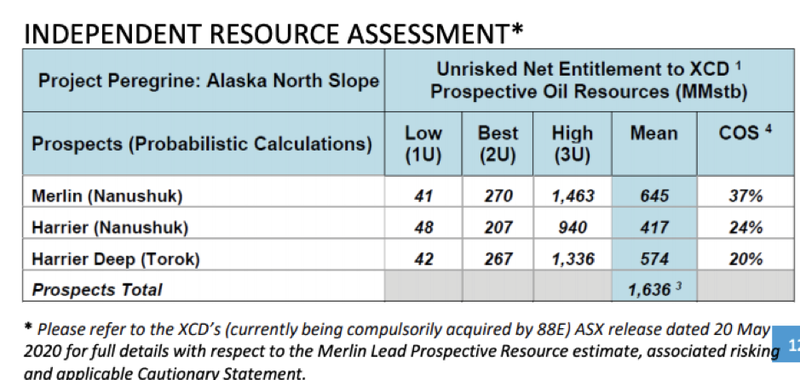 Merlin-1 drilling is imminent
88E (ASX 88E; LON 88E) is on track for its scheduled spud date of the Merlin-1 well February 2021. This is planned to reach a total depth of 6,000 ft, intersecting the shallower Nanushuk topset horizons listed above.
88E recently confirmed a farm out partner who will contribute US$11.3M to the Merlin-1 well, earning 50% of the Project. The estimated gross cost is US$12.6M.
88E's partner is the Alaska Peregrine Development Corporation LLC (APDC), a high calibre group of private US individuals with experience in oil and gas. This includes owning businesses that directly operate in the sector.
88E only needs to contribute US$1.3M, representing its 50% ownership share over and above a US$10M carry. All additional costs associated with the project above the US$10M carry will be borne equally by both and 88E.
This is a good deal for a small cap oil explorer like 88E. It allows the company to retain 50% of the upside, without having to outlay a large sum for drilling. It is close to a 2 for 1 deal for 88E investors. This gives 88E a low cost shot at a potentially large discovery early next year.
88 Energy has executed a contract with All American Oilfield, LLC for use of Rig 111 to drill the Merlin-1 and Harrier-1 wells at Project Peregrine.
Managing director Dave Wall said of the spud, "The farm-out was finalised late last week and now the rig contract is executed.
"Drilling at Project Peregrine is moving ahead as planned and we are only three months away from spud on what will be a potentially company-making prospect for our shareholders."
Pantheon's spud could propel 88E forward
88E (ASX 88E; LON 88E) operates the majority of the vast 475,000 acre Project Icewine on the world class North Slope of Alaska. The company's goal is to build a successful exploration and production company that delivers material benefits to its shareholders and contributes to the development of the regions in which it works.
Within the region is the £211 million (AU$380) Pantheon Resources (AIM: PANR), which will spud its Talitha-A well, located close to the northern border of the 88E central acreage position, in January.
Several of the prospective horizons in Talitha-A are interpreted to extend into 88E acreage as indicated below.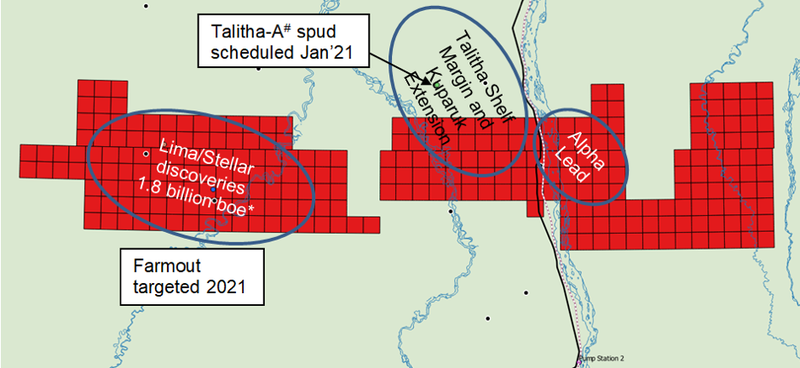 As Pantheon's drilling is ahead of the Merlin-1 spud, the 88 Energy share price could receive some support. This would increase the perceived value of Project Icewine's real estate.
Support for 88E is already strong
88E's share price found strong support in the December quarter, with interest in its drilling plans increasing liquidity in the stock.
The company was trading between A$0.005 and A$0.006 in late September. Since then it has raised A$10M at A$0.006 per share. The stock has traded as high as A$0.009 in late November.
News of the spud and farm-out should provide further momentum with significant near-term catalysts in the lead up to the spudding of the Merlin-1 well. A significant oil discovery would drive a substantial rerating of 88E.