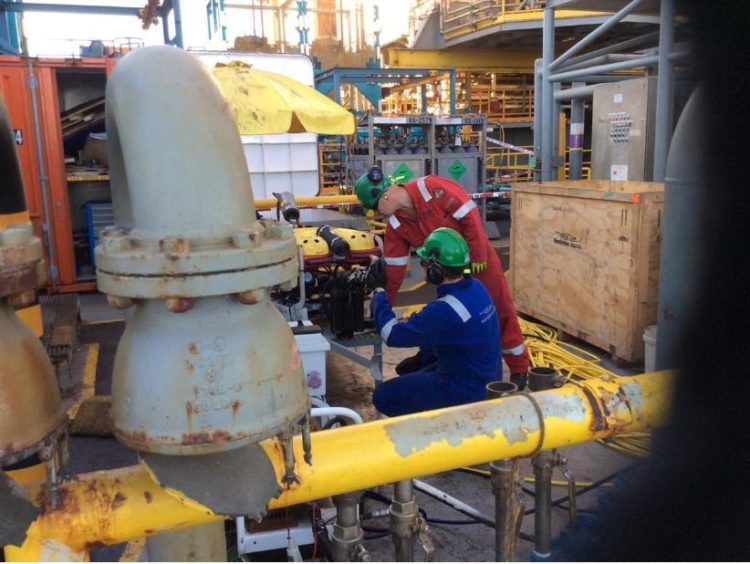 The oil price crash in the middle of the last decade forced many companies to reassess their business models in an attempt to navigate the best route out of the crisis.
For many who were unable to adapt to the changing economic situation, how to respond effectively to the downturn represented a significant challenge.
But for others, the downturn proved to be a catalyst. It presented an opportunity to develop new processes, technologies and strategies that would benefit an increasingly cost conscious and efficiency-focused industry. For them, to quote the old proverb, necessity really was the mother of invention.
Westerton Access was one such company. Originally established in Aberdeen as a rope access provider at the lowest point of the downturn in 2015, it soon identified an opportunity to deliver a unique offering to the wider offshore inspection market.
Inspired by industry
Discussions with a drilling contractor about the time and cost benefits of using small remotely-operated vehicles (ROVs) for the visual aspects of a drill ship survey offshore led Westerton Access to consider if entire special periodic survey (SPS) and under water inspection in lieu of dry docking (UWILD) surveys could be completed offshore by ROVs. In particular, whether full surveys of jack-up and semisubmersible rigs could be completed offshore by small ROVs.
After significant research and testing, the company created a unique method that answered this challenge.
Pioneering a unique solution
Westerton Access was the first company to complete a full UWILD on a jack-up rig offshore, during operation, using a small ROV.
The company's method enables full inspections to be completed offshore while the rig or vessel carries on with regular operations. The process, which uses small ROVs and specially designed eddy current systems, can save between 14 and 21 days in costly out of service time – a valuable benefit for operators and supply chain clients.
Rigs under inspection no longer have to be towed inshore, incurring sizeable costs for towing, shipyard or diver fees and surveys.
Instead, a four-man Westerton Access team can clean, visually inspect and carry out non-destructive testing.
The ROV is deployed with a cleaning lance and high-pressure water tool. This cleans the welds before inspection. Using a specially designed eddy current tool installed on a five-point electric manipulator arm, it moves the eddy current probe along each weld to detect defects.
Inspection of the underside of a rig's spud cans is completed easily and safely during a routine rig move, without any delay or downtime. Using ROVs instead of divers to carry out the internal inspection of spud cans, which carries a potential H2S risk, represents a clear health and safety benefit.
Proven success
The system has been successfully deployed in many global locations, including the North Sea and the Middle East. Westerton Access has completed UWILD projects on jack-up rigs in full offshore drilling operation, without downtime or the use of divers.
Delivering unique inspection solutions requiring no divers, downtime or shipyards, but using pioneering technologies continues to deliver cost, time and efficiency savings for the company's clients.