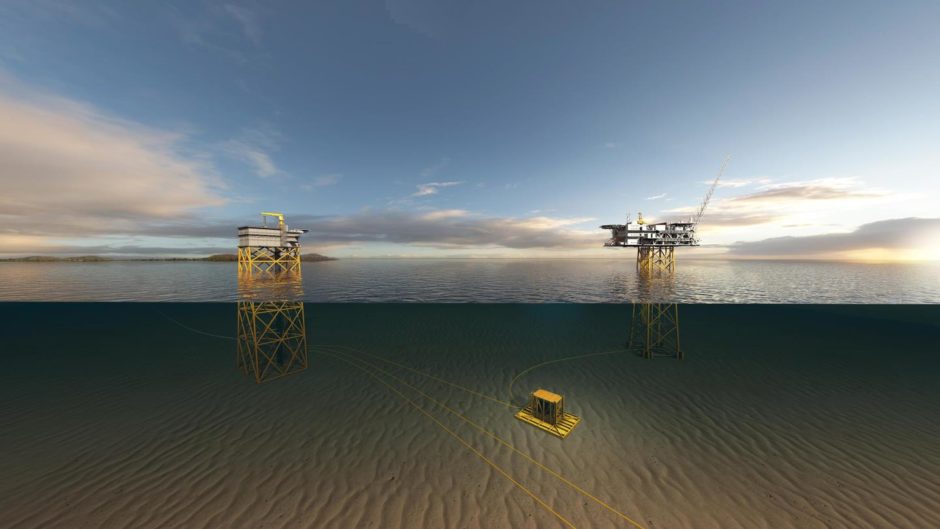 An alliance exploring offshore platform electrification in the UK can act as the "glue" that binds together a range of stakeholder interests and make projects a reality.
ABB, Aker Solutions and Kellas Midstream started their research 18 months ago after platform owners signalled they were weighing up decarbonising production through this approach.
The firms realised they were well matched and that pooling their expertise in design, technology, infrastructure management and commercial innovation would make for a compelling proposition.
And now the trio are ready to implement a solution in collaboration with all stakeholders, just as soon as operators are ready to move ahead and North Sea Transition Deal provides answers on how to shift regulatory and legislative barriers.
Phase one of the trio's extensive research looked at 30 different offshore electrification scenarios which could be applied in the UK central North Sea.
They considered the wide variety of infrastructure in the area, the incorporation of offshore wind farms, and the potential for connections to grids in the UK or Norway.
It was concluded that collaboration between operators, regulators and technology providers – and doing things at scale – would be key to success.
Stuart Reid, net zero manager at Kellas Midstream, which owns and manages critical North Sea infrastructure, said it was no surprise that trying to change how a platform is powered in the middle of its life would be very expensive.
For some platforms of a certain age, design and location, electrification will simply be too costly.
But there is an optimum mix of sizes and architectures that can create synergies and economies of scale to get projects moving.
Reid said: "If you want to create a scheme of the same scale as the successful ones in Norway, you probably need five or more platforms involved.
"Those platforms will have different owners and those companies will have to work out what's best for them and how to collaborate.
"Then, if you bring in an offshore wind farm – which is owned by a very different kind of company and has a different risk and reward framework – you have more issues with regulations and business models which are not yet in place.
"I think one thing our alliance can do is act a bit like a glue between all those different stakeholders' interests to try to get something that works for everybody.
"But it's going to require collaboration and a bit of compromise. Everybody is going to have to give a little bit, I think, to get a project up and running."
Platform electrification is nothing new in Norway, where operators have benefitted from substantially lower electricity prices.
There are a whole host of reasons for the UK's power prices being higher.
A large part of that is due to the various charges related to making the network flow and promoting the use of renewables.
The onus is on regulators, operators and government to work together to find a "sweet spot" so that projects can move forward.
Reid said they must do this in a reasonable timeframe, because the brownfield platforms which are candidates for electrification "are not going to be around forever".
Victoria Cameron, external relations manager at Kellas Midstream, said it was encouraging that regulators do recognise that current frameworks are not fit for purpose, as far as offshore electrification is concerned – and that a two-way dialogue between industry and regulators is now taking place.
She said the alliance was looking in detail at how offshore wind could be incorporated and was convinced that doing so would make quite a difference to electricity prices, though it does throw up more regulatory questions.
Asmund Maland, group vice president, subsea and offshore power, oil and gas, ABB Energy Industries, said CO2 taxes in Norway had also played a part in incentivising the switch to electrification.
He estimates that as much as 35% of Norwegian upstream production is electrified, which could rise to 50% in the coming years.
Maland said: "When creating new greenfield project in Norway, you have to explain why you want to connect to the shore or use gas turbines.
"Initially, companies found all sorts of excuses not to electrify, but that has completely changed, partly because of attitudes in society and recent climate change reports."
As for brownfield projects, each is a little bit different, so the same answers cannot be applied basin wide.
But where there's a will, there's a way. Maland said: "It's too easy to say this will never work and do nothing, but if you have the willingness you will look at the challenge in another way, the economics will fall into place and the project will happen."
Technology can, of course, be a big enabler of cost reductions for offshore platform electrification.
The technological applications Aker Solutions and ABB develop, such as subsea transformers, reduce the amount of modification work required on existing platforms, bringing down costs substantially.
Egil Birkemoe, vice president, HV infrastructure, Aker Solutions, said: "Everything we're applying uses existing technology. Taking knowledge from the last 20 years and optimising it – that's our approach."
It all means the group is well positioned to be a "first mover" when it gets the signal from clients.
Reid added: "Electrification is not a core business for upstream customers.
"They want power delivered to them reliably so they can get on with exploration and production.
"We are ready to go and respond to their requirements when they feel they are comfortable and can articulate what those are."