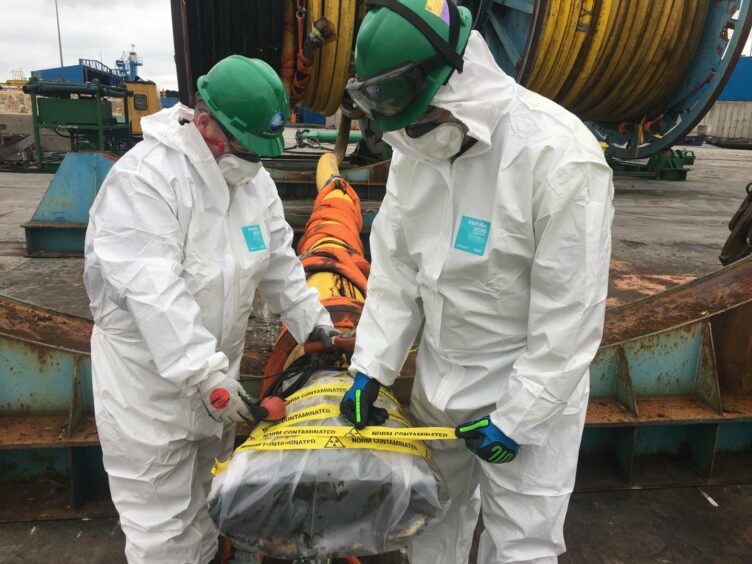 One of the main concerns of any decommissioning program is the potential of Naturally Occurring Radioactive Materials (NORM) on subsea and topside structure and equipment that is to be decommissioned. John Davidson, NORM Operations Manager at ASCO, discusses the process involved in the disposal of NORM and the key role that NORM Solutions can play in this specialist area.
NORM Solutions has specialised in the handing of NORM for more than 10 years. Being part of the wider ASCO integrated logistics and materials management service offers a coordinated approach to managing this process and ensures the safe transfer of NORM materials and equipment from offshore to our purpose-built onshore decontamination facilities.
NORM and the Decommissioning sector
The focus on NORM within the industry will continue to grow as decom activity increases in the next decade (particularly for the UK North Sea).  Operators need to have confidence that both decommissioned and active facilities have any NORM identified, transported, handled and disposed of to consistently high standards. It requires skilled professionals and technicians to manage offshore monitoring of NORM levels and to ensure safe handling and segregation of such equipment.
Vitally, it also needs a coordinated approach and a key part of the process is the collaboration with operators, suppliers and the wider industry. Our custom-built SEPA permitted facility in Aberdeen gives our customers the confidence that material and equipment sent in is decontaminated safely and efficiently.  It's also essential that our processes recognise the need to maximise the reuse and recycling opportunities to minimise the impact on the environment and to lower overall costs.
With 10 years incident free experience, NORM Solutions, as part of ASCO, manages NORM requirements and also works with other service companies to offer a complete solution.  Our expertise in being able to link offshore decommissioning with specialist facilities delivered by NORM Solutions provides cost and environmental benefits to operators involved in decom activities.
Track-record
NORM solutions, as a key part of ASCO's overall Environmental business unit, has contributed to a number of projects that highlight the benefits of an effective project management solution for the safe handling of NORM projects.  Identifying NORM on an FPSO that was to be recommissioned in Kishorn, ASCO not only collaborated with the Port but also led the project with other specialist service providers, resulting in a successful contract completion.  Likewise, ASCO's Environmental project team worked with the local supply chain to manage the handling of NORM on subsea material for a customer at Port of Blyth, delivering a successful outcome for all parties.
Our facility in Aberdeen allows us to handle NORM material and equipment from large decommissioning projects or ongoing offshore operational activities.  We decontaminate and handle various equipment and components including tubulars, pumps, Christmas trees, umbilicals and flowlines.
Collaboration
Collaboration is key and that is no different when it comes to the decommissioning landscape and our specialist NORM solutions team. We recognise the importance of working with the industry and working with industry bodies to ensure the decommissioning sector communicates effectively its successes and its lessons learned.
With the future of decommissioning being a key focus for the industry, NORM Solutions, along with the wider expertise of ASCO, is ideally placed to support the decommissioning sector in this specialist area of NORM.
Recommended for you

Pict partners with Maersk Training to take Get Up Safe stateside