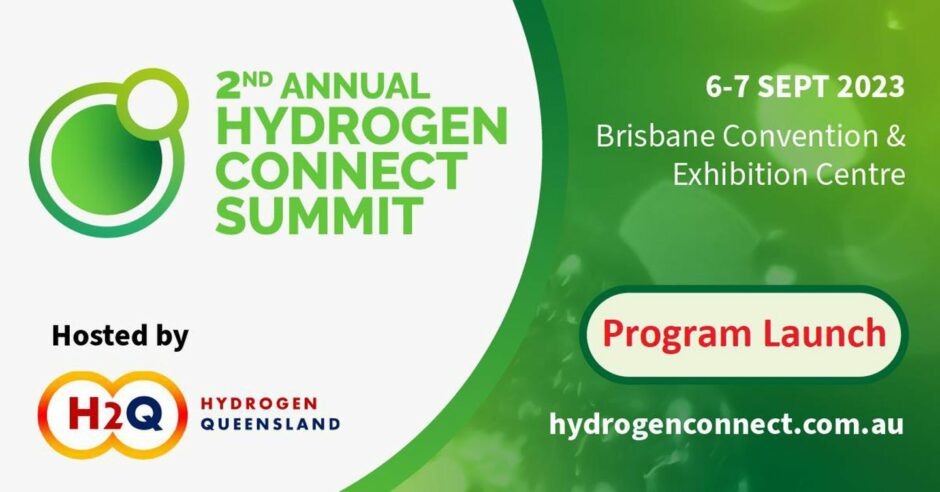 Energy Voice is proud to be a Supporting Partner on Hydrogen Queensland's 2nd Annual Hydrogen Connect Summit 2023.
Energy Voice is excited to offer its industry network a Special 20% Discount off Summit registration.
To take advantage of this offer please register via this unique registration link and enter Discount Code: EV20%
With Hydrogen Queensland's 2nd Annual Hydrogen Connect Summit just over 3 months away we are excited to share with you some of the topics and key themes for 2023.
Once again you will be spoiled for choice with a preliminary program designed to be as bold as the recent government announcements.
For whatever you say or feel the hydrogen sector is here to stay and will be game changing in the next few months and the more distant future.
In close consultation with our HYDROGEN CONNNECT SUMMIT Advisory Board, we have been hard at work researching the most pertinent topics and issues currently facing Queensland (& Australia's) hydrogen community.
View Program
In 2023 you will once again be presented with a world class Summit program which has been designed BY INDUSTRY, FOR INDUSTRY.
As an industry/policy influencer and a true "not for profit" organisation, Hydrogen Queensland (H2Q) is taking ownership of the conversation.
It is our priority to connect businesses and accelerate the growth of Queensland (& Australia's) hydrogen economy.
EARLY BIRD PRICING – REGISTER NOW & SAVE $600
* Early Bird Rate expires on Fri 30 June
The program is designed to offer you more certainty, clarity, lessons learned and future anticipations to de-risk your decision making as you strive toward your zero emission ambitions. Sessions and topics to be addressed in the 2023 program include:
7 PANEL DISCUSSIONS:
Federal and State Government Lessons Learned: Future Plans to Align Policies, Mitigate Risks, Remove Barriers, and Accelerate the Australian Hydrogen Economy
Aligning European, Australian, American and Asian Emissions Accounting and Reporting Rules to Substantiate Emissions Claims Associated with Hydrogen Energy Use
Leveraging and Assessing the Success Criteria of Grant Funding Initiatives to De-risk Investment, Production, Distribution and Early Transition Offtake and the Advancement of Renewables
Focus on Asia: Investment and Offtake Commitments and Future Intentions to Grow the Australian Hydrogen Economy and Achieve Asia's Decarbonisation Ambitions: Invited Panelists from Japan, Singapore and Korea
Investing in Bankable Hydrogen Projects and the Broader Hydrogen Market: Risks and Rewards
Corporate Case Study Panel Discussion: Gladstone Hydrogen Hub – Overcoming the Challenges and Lessons Learned in Delivering Hydrogen to Gas Network Offtakers: Insights from HyP Gladstone
Corporate Case Study Panel: Connecting with the Right Partners and Allies to Reach Financial Close and Deliver Green Hydrogen to Domestic and International Offtakers at the Right Price
4 BREAKAWAY PANEL DISCUSSIONS:
Renewables Supply/ Demand Panel Discussion
Common Use Infrastructure Panel Discussion
Social License Panel Discussion
Refueling Panel Discussion
8 PRE-SUMMIT WORKSHOPS AND IDEATION SESSIONS:
An Update on Hydrogen Safety Standards 2023 to offer Certainty, Transparency and Codes of Best Practice between States and Federal Government
Mobility Essentials for Transport Operators to Decarbonise their Fleets
Hydrogen Skills and Workforce Design, Build and Planning required to Serve a Well Operated Hydrogen Sector
Building the Financial Case to Transition to Hydrogen: Offtaker Workshop
How to Leverage the GO Scheme to Unlock Value for your Certified Renewable Hydrogen Investment, Production and Offtake Activities
Pre-empting your Green Hydrogen Project Risks with Sound Social License to Operate Practices
Finding the Sweet Spot for e Fuels, Biofuels and Synfuels to Decarbonise Quickly
New ISO Standards on Emissions Accounting for Hydrogen: Upstream, Midstream and Downstream Requisites
Roundtable Discussion Groups with feedback on Day 1 of the Summit from the preceding workshops, to afford Summit delegates with the key take-outs.
4 PRE-SUMMIT TECH TOURS:
Waste to Gas Plant
Hydrogen Electrolysis Production in Action
Waste to Energy Reforming
New Energy Hydrogen Production and Storage with Hydrogen Power Banks
8 BREAKOUT CASE STUDIES SPANNING OFF TAKE SECTORS:
These include Logistics and Mobility, Rail, Steel & Mining
INTERNATIONAL KEYNOTES AND PANELISTS FROM EUROPE AND ASIA
Coming to you soon…
START-UP PITCH BATTLE – The return of the ever-popular Pitch Battle
2023 HYDROGEN CONNECT SUMMIT PARTNERS
Get involved early and make Hydrogen Connect Summit part of your strategic marketing plan for 2023.
Gain access to a database of 12,000+ key hydrogen decision makers across Queensland & Australia.
To discuss any of the opportunities outlined in our 2023 PARTNERSHIP PROSPECTUS or to tailor a package to suit your specific requirements, please contact:
Phil McDermott: m: +61 491 209 066 | e: sponex@hydrogenconnect.com.au
Recommended for you

Exclusive Energy Voice discount for 2nd Annual Hydrogen Connect Summit