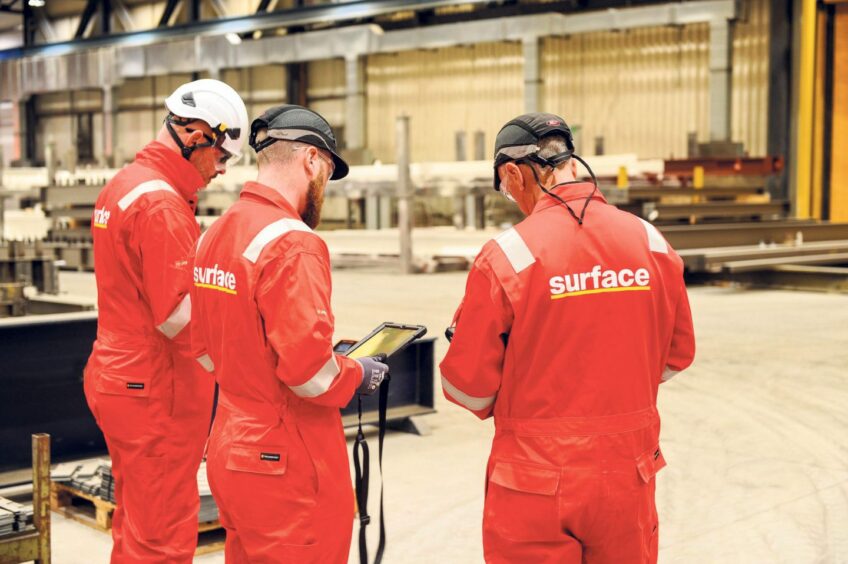 Imagine having the ability to predict the future for your assets. The stuff of dreams? Not according to leading corrosion management specialists Surface Corrosion Consultants Ltd.
A team of specialists at one of Europe's largest coating inspection companies, based in Belfast and Aberdeen, is giving asset owners the opportunity to predict coating degradation based on corrosivity ranking, turning the tide on traditional corrosion and inspection management methods and empowering asset managers to see what lies ahead in more detail and with more accuracy than ever before.
Surface is dedicated to comprehensive paint inspection, NDT inspection and corrosion prevention across a range of industries including energy, subsea, renewables, marine, and transport and infrastructure.
Sitting front and centre of its comprehensive suite of innovative products and services is the cutting-edge web and tablet-based app Surface Asset Management™ (SAM™) which is transforming coating condition surveys and painting campaigns by allowing complete management of assets from conditional surveying and specification to scope of works and inspection reporting.
This leading innovation has significantly raised the bar in protecting assets and boosted the coffers of Surface to the tune of £1.5 million in new work since the beginning of this year alone.
The pioneering technology was developed in 2017 after the team of entrepreneurs, led by the Surface CEO and founder, Sean Truesdale, identified a clear gap in the market for a digital solution which would record and save inspection report data in real-time. The Surface team realised most service providers and major operators were still managing corrosion protection using sub-contractors and colossal spreadsheets and it was time for a more streamlined, efficient solution.
It is crucial that our technology's evolution mirrors the real needs of the sectors we operate within
SAM™ offers a fresh and unique approach to corrosion prevention and has been built with simplicity and efficiency at its forefront.
The technology is already making waves globally with the likes of industry giant Shell NAM deploying the premier digital solution in its onshore and offshore gas production facilities in the UK and Dutch sectors of the Southern North Sea.
Shell NAM have signed up for a 10-year contract with SAM™ with the scope of work including the integration of data into the SAM™️ application to maximise asset management efficiency through seamless and streamlined transition.
Additionally, Surface Corrosion Consultants Ltd recently joined forces with structural steel giant, Severfield, to integrate SAM™️ across all its business divisions in order to support their move into industry 4.0 and to strengthen their nuclear compliance.
The scope of work sees Surface provide state of the art software merging with existing ERP platforms to digitally capture all QA/QC requirements, from steel mill certification, through to fabrication and welding (NDT), and surface preparation and coating processes, all of which flow through tablet and designated workstations.
Centred around the pillars of protect, inspect, record and control which lie at the system's heart, intelligent overviews of data collected during surveys allow detailed pictures to be created of the critical path ahead with built-in flexibility for user companies to set their own repair threshold for the surveyed items.
Managing new build projects and providing cradle-to-grave traceability, SAM™️ is an easy-to-use, digital inspection application that effortlessly streamlines all aspects of NDT management and coating inspection. User friendly, highly intuitive and infinitely applicable across numerous sectors, SAM™️ is designed by corrosion specialists for corrosion specialists. It removes duplication of tasks and unlocks a single point of access to monitor corrosion and manage the execution of coating systems, passive fire protection and insulation instalment.
In the constant drive for efficiency, SAM™ now interfaces directly to Elcometer gauges that are Bluetooth enabled. Using a tablet and Bluetooth technology the coatings inspector and technician digitally records all inspection requirements from NDT onwards including MPI, UT, Visual, environmental readings, DFTs, images and much more in real-time onsite.
Reports generated can be adapted and edited to suit the user's specific requirements. With just a few taps of the screen, all saved readings from the gauge are instantly transferred to the app and synced with no need for manual data entry – just choose which zone the readings are from and the app does the rest. There is no man in the middle to navigate.
Every piece of inspection data collected via the web or tablet is instantly saved to secure servers. SAM™ creates skilfully formatted and concise documentation that is available anytime to download or send direct from the desktop or tablet.
The software logs coating product, blast media, and all other essential variables for successful and concise reports. It can generate reports based on user defined selections by asset, zone, structure type, RE values, planned year, dates and items not yet included offering clients the chance to get a better handle on their data.
SAM™ automatically generates dashboards providing insights, intelligence and overviews of all data collected during surveys allowing the user to view scopes in detail and see a clear picture of the critical path ahead. The app can also be used to set priorities which gives the operator the chance to
set their own critical repair threshold for the surveyed items. Furthermore, the manning levels can be scrutinised with ease to help assemble the most effective team balance on any project.
Concise, easy to understand survey data is managed and monitored with ease and aligns with instantaneous reporting to ameliorate the simplicity which is paramount in the ongoing drive for efficiency across a host of tasks. Conditional surveys (inclusive of CUI); campaign and scope management; survey and inspection reviews; analysis and reporting and critical repair management – SAM™️ will take them all in its stride.
By leveraging excellent client relationships, Surface has been agile in evolving the offering in line with demand and key to the recent awards has been the development of an industry-first breakthrough – the Degradation Forecasting Module (DFM). This enables better planning and cost efficiencies
by forecasting when asset upgrading is required by painting an accurate picture from a topsides infrastructure perspective, on the levels of corrosion. Additionally, the software hugely minimises the risk of integrity failure by categorising the condition of assets years into the future, leading to a planned and budgeted approach to inspection, repair, and replacement.
"SAM™ really is the most versatile and innovative software available on the market today with regard to NDT management and coating inspection," says Surface CEO and founder Sean Truesdale.
"It is crucial that our technology's evolution mirrors the real needs of the sectors we operate within, and this is only achievable thanks to a combination of nurturing close working relationships and having the best expertise in the industry on our team to develop innovative, practical solutions which are scalable and allow us to engage with a global client base."
"The addition of the Degradation Forecasting Module is itself a game changer for the future of corrosion management in the oil and gas and construction industries – there is simply nothing else like it, period.
"With our team of experts constantly at the helm of exciting new digital breakthroughs, I am excited to see where the future with SAM™ takes us."
To find out more about SAM™ visit consultsurface.com