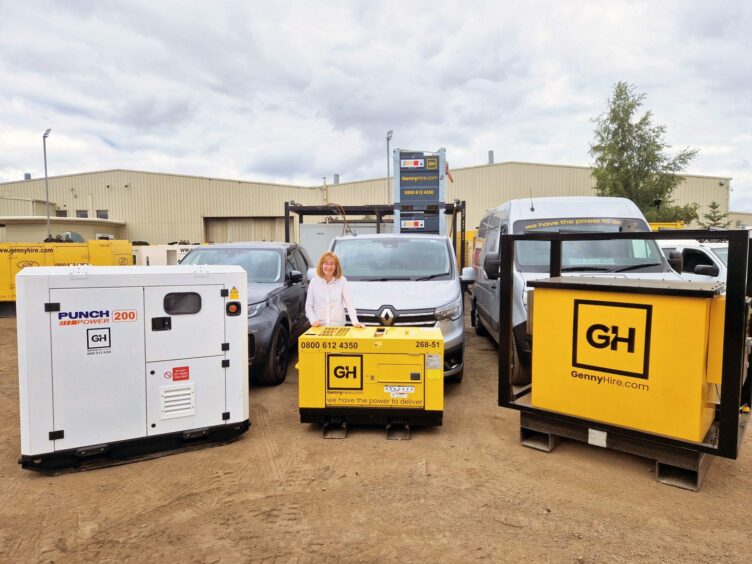 Genny Hire, an Aberdeenshire-based generator hire business, is making waves. With a recent infusion of a six-figure sum into equipment upgrades, strategic expansion, and a transformative rebranding endeavor, Genny Hire is not just growing; it's becoming a guiding light in the industry.
It's a great sign of our customer-focused approach that clients from the early days are still with us." Lorna Clark, Genny Hire
Founded in 2009 by Peter Emslie and Lorna Clark, the company was based in Murcar and started with a handful of generators, a few fuel tanks and a single van but with a commitment to fill a gap in the market by providing power solutions to local events and small-scale construction projects.
However, even the smallest spark has the potential to blaze into something remarkable. From powering trade shows and weddings to grain driers and wind turbine installations, Genny Hire was soon expanding their customer base by hiring to the events, construction, agriculture, marine, oil and gas and renewables sectors.
"We never imagined that our wee company could grow to such scale." said founding director Lorna. "We had to buy more equipment and take on more staff to meet demand but it's a great sign of our customer-focused approach that clients from the early days are still with us."
A move in 2020 to larger premises in Kintore gave Genny Hire the base for further growth with a substantial capital injection going towards upgrading and broadening its equipment, expanding its operations and staff, increasing their fleet and undergoing a comprehensive rebranding effort.
To date, PP200, new generators, 100KW suitcase portable load banks, 690V Transformers, fuel tanks and fuel active systems have been added to Genny Hire's list of equipment for hire.
With increased warehousing and transportation infrastructure, the company can efficiently manage its growing inventory and ensure timely delivery and retrieval of generators to meet the various demands and needs of its clients, regardless of the scale or location of the project. Moreover, Genny Hire is focusing on augmenting its logistical capabilities with 24/7 technical support offered to its customers.
Recognising the importance of diversifying and new innovations, Genny Hire has allocated a significant portion of its recent investment towards acquiring state-of-the-art generator equipment that offers not only fuel and cost savings but also emission reduction.
This includes the Punch Power Flybrid, a standalone flywheel energy storage system that uses technology derived from Formula One and which enables downsizing of generators by a factor of 2 or more. It can be used in applications like tower cranes, pumps, hoists and lifts to achieve fuel savings of more than 50%.
In the future, Genny Hire will also be looking to invest in battery energy storage systems and solar technology solutions to evolve their offering as the energy sector itself evolves.
By embracing these renewable energy solutions, Genny Hire is poised to offer its clients cleaner and more sustainable power options to not only meet customer expectations and requirements but also strengthen Genny Hire's competitive edge in the market.
In addition to its recent equipment, staff and fleet expansion, Genny Hire has embarked on a comprehensive rebranding campaign to improve its visibility and solidify its market presence. This rebranding effort includes revamping its logo, print collateral, redesigning its website, and enhancing its digital marketing strategies with the new logo soon to be rolled out across its entire fleet and plant.
"We want our customers to feel happy when they see our logo, whether it's when we arrive or when they show up to their place of work. We want them to feel that we are bringing not only solutions to their problem but also reliability with help and support if they need it," said Lorna.
Genny Hire's journey from the shadows of its beginnings to its bright future is a testament to the power of entrepreneurship, innovation and can-do attitude.
Throughout Genny Hire's growth and transformation, one thing remains constant and is their guiding light: their unwavering commitment to their customers. The company takes pride in its customer-centric approach, going the extra mile to understand each client's unique requirements and deliver tailored solutions accordingly.
---
Learn more about Genny Hire today.
Recommended for you
Well-Safe Solutions looks to CCUS as it hires energy transition manager