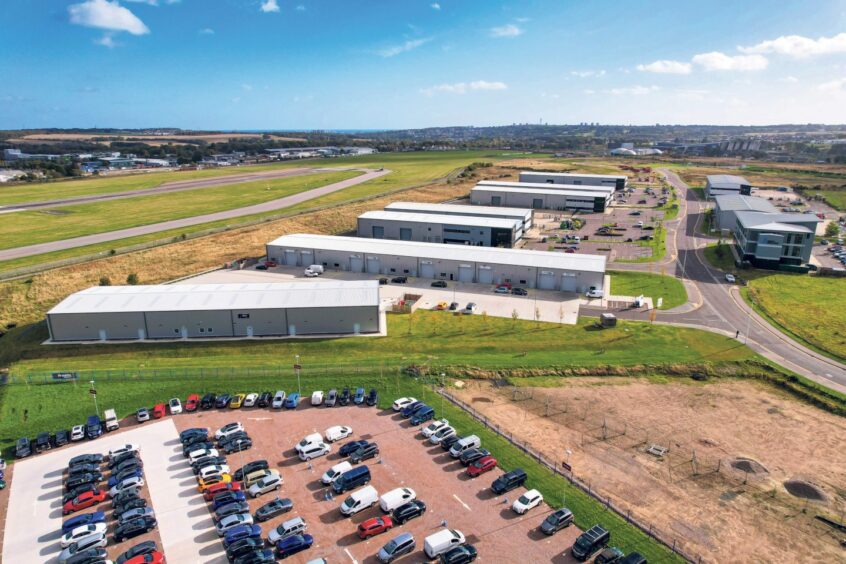 ABZ Business Park has announced immediate availability of a suite of modern, high- quality business units in its prime location adjacent to Aberdeen International Airport.
The new industrial and office accommodation is set within the 70-acre business park featuring 15 new-build units, of which the last five units, ranging from 2,500sq ft to 5,000sq ft are available.
The extensive site, which has immediate access to the Aberdeen Bypass offers high quality buildings designed with energy efficiency in mind.
The multi-let development offers suitable accommodation for cross sector businesses including oil and gas, storage and distribution and trade counter operations. ABZ is currently home to some of the biggest energy and technology companies including Noble Drilling, RGU SubSea Hub, Ethos Energy, Aramark, Celeros, Interventek and Global Energy Group. Also in the immediate vicinity are BP, Oceaneering and Aker Solutions.
ABZ Director, Tim Stevenson, said, "There is a demand for new, high- quality and energy- efficient workspaces in Aberdeen with ABZ Business Park an ideal example of a new development equipped to meet the needs of modern business.
"With a prime location next to the airport and easy access to the City and Shire, ABZ's fit-for-purpose buildings are ideally suited to a variety of industries as tenants look to move on from dated alternatives nearby to a more energy-efficient site that offers longevity and sustainability for their businesses both now and in the future."
ABZ Business Park has appointed Ryden and Savills as joint marketing agents for the development. Ingoing tenants will benefit from 100% rates relief for the first 12 months.
A further advantage of the Dyce base is its link with Airparks "park and walk" car park which has recorded a 93% occupancy rate with an extension completed this year to add 162 new spaces.
"It is great to see the success of the Airparks 'park and walk' initiative with the high occupancy levels demonstrating demand for affordable and reliable airport parking," added Tim.
Serviced plots available at ABZ Business Park range in size from one acre to 15 acres. There are bespoke design and build options available with land for sale or development.
"We are delighted to offer available space for expanding companies, whether that be office or industrial occupiers, looking to grow and extend their premises."
For more information on the Aberdeen business units visit abzbusinesspark.com
Recommended for you

ABZ Business Park – at your service