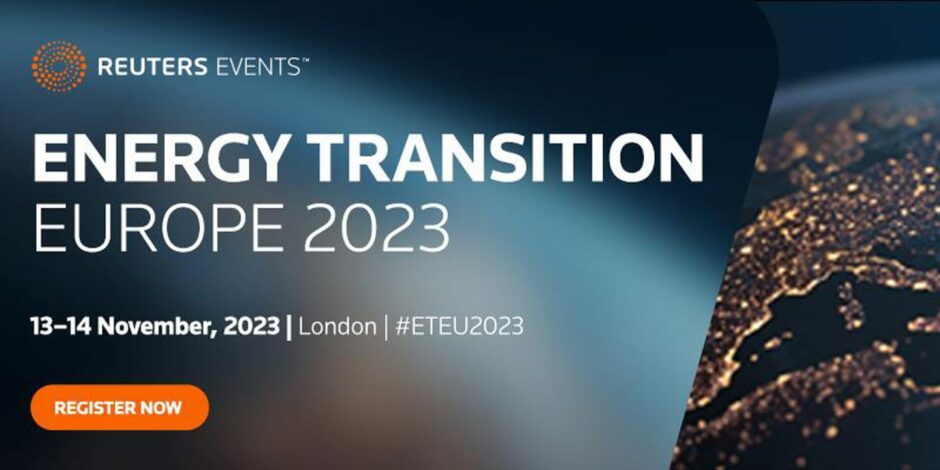 The role of key energy players and decarbonization pathways to cut carbon emissions will be the focus at Energy Transition Europe 2023, Reuters Events announced today.
Reuters Events: Energy Transition Europe 2023 (13 – 14 November, London) is where the continent's foremost energy, finance and government leaders unite to lay the foundations of a net zero future whilst accelerating away from market turbulence.
We'll explore how stakeholders will reinvent their business models and engender growth through technology enhancement, cross-sectoral collaboration, supply chain synchronisation, and rapid decarbonization.
Join 350+ industry leaders to diversify your portfolio, forge net zero partnerships, and cement your position within a carbon-neutral Europe.
Confirmed speakers include EDF Energy CEO Simone Rossi, Octopus Energy CEO Greg Jackson, BP Senior Vice President, Europe and Head of Country Louise Kingham, Director General, Energy Department, Ministry of Economic Affairs and Employment of Finland, Riku Huttunen.
Also appearing at the event will be Repsol EMD Energy Transition, Technology, Institutional Affairs, & Deputy CEO, Luis Cabra, Petrom CEO Christina Verchere, BNP Paribas Asset Management CEO Sandro Pierri, along with Ørsted Vice President and Head of New Markets Alana Kühne, and many more.
"The urgency for progress is ever pressing, as we can see the impacts of delay across the continent in front of our eyes. We look forward to seeing the real progress the industry can make" said Katie Silver, Project Director and Energy Transition Europe Lead at Reuters Events.
More than 60 executive speakers will be present at the event, with an extremely impressive line-up from across the continent and the industry. The brochure for the two days of learning and networking is available to download now.
The key themes of the event will focus on:
Mobilising Green Investment – In uncertain macroeconomic conditions, the energy transition is scaling exponential green growth. Falling behind is not an option. Demonstrate leadership and secure investment in order to secure net zero business opportunities, forge sustainable avenues for investment, and accelerate profit from market uncertainty.
Collaborative Leadership & Governance – Explore how governance and collaboration in Europe can drive a new age of low carbon supply. Are we witnessing the birth of a redefined European transition? How should players throughout the net zero value chain adapt to new dependencies and realign their business strategy to adjust to political change? Understand how private sector companies can work hand-in-hand with public sector leaders within and outside of their region.
Energy Security & Clean Supply – The Russian gas embargo, ramifications of the I.R.A. and continued geopolitical turbulence have accelerated the transition paradigm shift. How can companies deliver real return on investment for a climate-positive future? How can we fast-track progress on net zero targets and secure investment in low carbon projects? Recognise how to secure European energy supremacy and establish the first net-zero continent in modern history.
Diversification & Electrification – At the heart of the European transition lies a fundamental shift from carbon to electrons. Gain cutting-edge insights into next-gen wind, solar and storage projects, understand how to build flexibility and balance into the clean-power supply and identify the role of digital technologies in connecting the European continent grid.
Carbon Management – European stakeholders must responsibly manage and mitigate carbon remaining in our energy system. Explore incentives for accelerating climate tech and infrastructure upgrades, identify the role of CCUS, hydrogen, and low-carbon fuels in your strategy, and learn how a cross-sectoral approach will deliver carbon reduction across all your emission scopes.
Reuters Events: Energy Transition Europe 2023 will include world-class presentations, panels, interviews, and workshops, and a variety of interactive networking opportunities including VIP dinners, and an extensive media presence.
Present at the in-person event will be some of the biggest names from across the European energy ecosystem, including BP, Shell, Eni, E.ON, TotalEnergies, RWE, Equinor, European Investment Bank, HSBC, Anglo American, Goldman Sachs, Iberdrola, Enagas and many more.
"This is a unique opportunity to join hundreds of senior-level executives from business, finance and government in helping to make 2023 a decisive year for Europe's energy future," said Katie. "From investment strategies to energy security, we will cover all of the business-critical pain points facing the sector and how to address them."
Reuters Events: Energy Transition Europe 2023 will be held in Bishopsgate, London on November 13-14. For more information, visit https://events.reutersevents.com/energy-transition/energy-transition-europe or write to katie.silver@thomsonreuters.com.
Recommended for you

Sunak pledges £1.6 billion to try to show COP28 he's on message