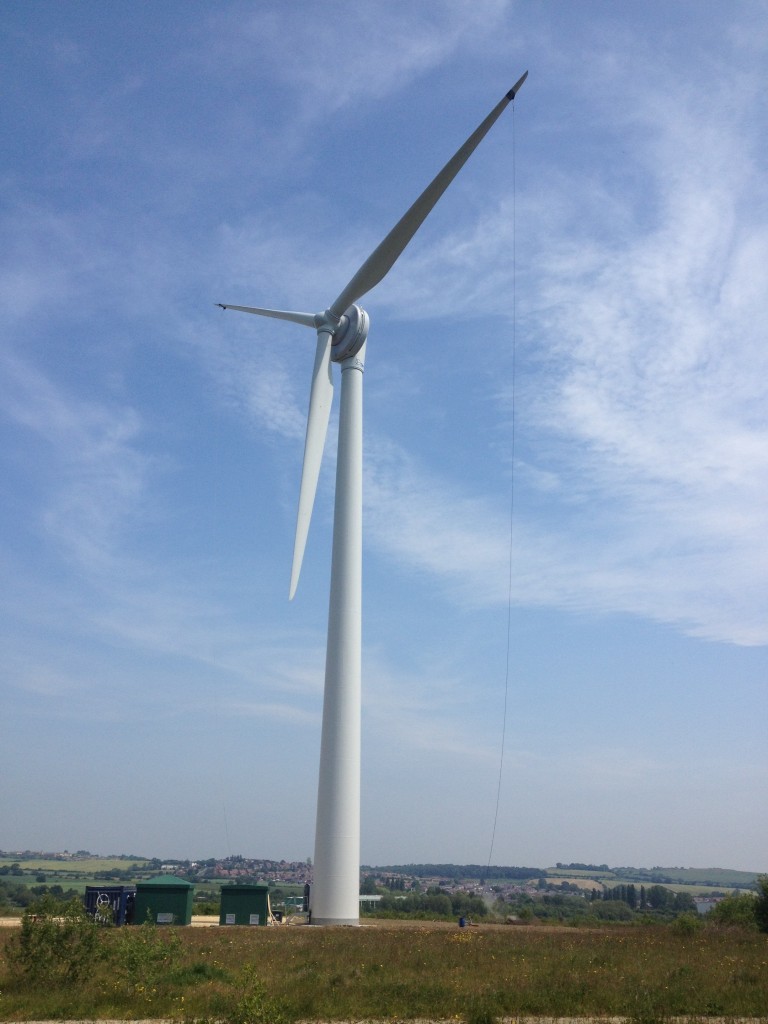 A 100 metre (330ft) high wind turbine is set to start generating power at the headquarters of the Royal Society for the Protection of Birds.
Construction of the turbine has been completed at the RSPB's Lodge headquarters near Sandy, Bedfordshire, by energy company Ecotricity and is now expected to generate enough electricity to meet the annual needs of 450 homes.
The turbine, which will save an estimated 800 tonnes of carbon emissions a year as it generates the equivalent of half the electricity the RSPB uses across its 127 sites, is part of moves by Europe's largest nature conservation charity to make its operations greener.
Pursuing wind power is not without controversy for the RSPB, as critics of the technology warn turbines pose a threat to birds, particularly rare species which are already suffering from low numbers or migratory species, as well as to bats.
But an article in the journal Nature a few years ago pointed out that turbines killed far fewer birds than than other human causes such as buildings, cars, power lines, pesticides and pet cats.
The RSPB warns climate change is the "single biggest threat" to birds and other wildlife and says it has been involved in hundreds of wind farm applications to make sure local bird nesting activity, migratory patterns and flight paths are taken into account.
The charity said it had worked in partnership with Ecotricity on three years of detailed ecological and environmental research to confirm the location at its headquarters was suitable for a turbine.
RSPB director of conservation Martin Harper said: "Climate change is the single biggest threat to our planet. This is about our birds and wildlife as well as our way of life.
"Around the world, and even in the UK, we can already see how these changes are affecting wildlife, the places where they live as well as damage to our homes and disruptions to the economy.
"It is down to everyone to play their part. In the UK, we have the potential to generate a significant portion, if not all, of our electricity from sustainable sources."
And he said: "Using wind energy is a proven and reliable technology that reduces greenhouse gas emissions. But turbines must be located where they are sympathetic to our natural environment."
Ecotricity has financed and installed the wind turbine which will produce power at a discounted cost to the charity, with excess electricity generated being sold by the energy company, a scheme which powers operations by Sainsbury's, Ford and B&Q.
Ecotricity founder Dale Vince said the partnership allowed the company to work with customers to make green energy where they needed it and to share the benefits.
"Green energy puts power in the hands of the people – the technology allows us to democratise and decentralise energy in Britain.
"Green energy is also a strong economic and an environmental choice – it's about jobs and the new industrial revolution, about building a truly sustainable economy in Britain," he said.