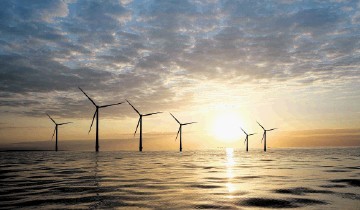 Fugro has completed offshore works undertaken in preparation for full construction of the European Offshore Wind Deployment Centre (EOWDC) at Aberdeen Bay.
The geotechnical site investigation took place at 11 turbine locations to assess the seabed, with the data acquired being used to inform the final design and micro-siting of the turbine foundations.
Construction is scheduled to start in late 2017 or early 2018, after an investment decision later this year.
Fugro's dynamically-positioned 78-metre geotechnical drilling vessel, the Bucentaur, was mobilised to the EOWDC site, located about 2km to 5km off the coast of Aberdeen.
The site investigation work was on behalf of Aberdeen Offshore Wind Farm Limited.
While an investment decision on the European Offshore Wind Deployment Centre (EOWDC) has yet to be taken, building work is slated to start in late 2017 ahead of first power in 2018, according to AOWFL.
Fugro senior project manager Dennis van den Bulk, said: "The offshore phase was completed safely, successfully and without any significant downtime, validating the solution."
The data and samples acquired during the field phase were transferred to Fugro's Wallingford laboratory and offices for further analysis and reporting.
Vattenfall and Aberdeen Renewable Energy Group (AREG) are the partners behind AOWFL.
The company is driving the project forward, reaffirming its commitment to seeing the much-needed industry scheme come to fruition.
EOWDC aims to establish a world-class hub of offshore wind know-how, technology and innovation.
Andy Paine, head of UK offshore wind development for Vattenfall and project director for AOWFL, said: "The pioneering EOWDC will help establish the north east of Scotland as a global centre of innovation for the offshore wind industry. It is through test and demonstration of next generation products and services that offshore wind will become a low cost sector."
Recommended for you

Aberdeen ETZ 'campus model' unveiled