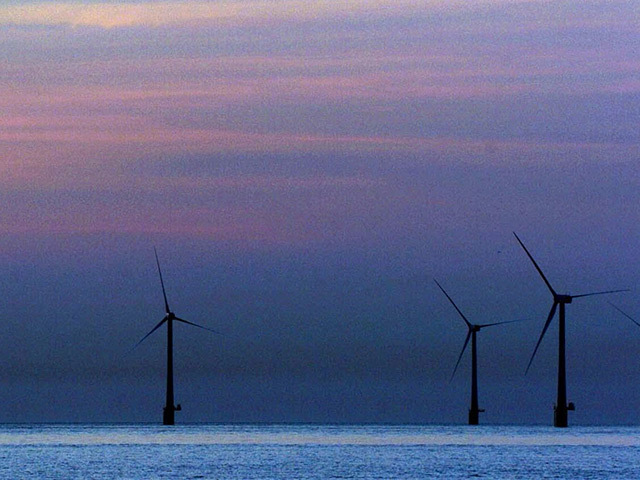 A contract for the assembly of wind turbine jackets will secure up to 200 jobs at Harland and Wolff (H&W) in Belfast.
Lamprell is supplying Glasgow-based ScottishPower Renewables with 60 steel foundation jackets for the £2.5billion East Anglia One wind farm in the southern North Sea.
The development will produce enough energy to power 500,000 homes a year.
Fabrication work will be carried out at Lamprell's Jebel Ali and Sharjah yards in the United Arab Emirates starting in March, with final delivery to ScottishPower Renewables expected between March and October 2018.
London-listed Lamprell, whose registered office is on the Isle of Man, said the contract was worth $225million.
It said H&W would perform jacket assembly work on the project.
H&W said the delivery 24 of the jackets at its base would support up to 200 employees.
Keith Anderson, chief executive of ScottishPower Renewables, which is part of Bilbao-headquartered energy firm Iberdrola, said: "East Anglia One will be the best value offshore windfarm ever constructed, at the same time as delivering industry-leading levels of UK content.  Both of these considerations have been prominent in our thinking during the process of placing these contracts and we are pleased that Belfast will play important roles in delivering this project, supporting hundreds of skilled jobs.
"The facilities in Belfast are excellent for supporting offshore wind construction, as we experienced on our West of Duddon Sands project. We hope that the successful delivery of this contract will lead to even more opportunities in the offshore wind industry for Belfast."
H&W chief executive Robert Cooper said: "We are delighted to work with such a prestigious company as ScottishPower Renewables on a project of nationally significant importance. We have always been renowned for our unsurpassed quality and our collaboration with Lamprell Energy enhances our offer in terms of capacity and cost effectiveness.  We look forward to a successful relationship with ScottishPower Renewables and Lamprell Energy."
Christopher McDonald, chief executive of Lamprell, which specialises in rig construction, said: "We are proud to be part of this flagship project developed in the North Sea. This is a significant award for Lamprell and represents a big step forward in servicing the fast growing renewables segment.
"This project gives us an opportunity to demonstrate how our fabrication skills are once again transferrable to other areas of the energy industry and beyond our traditional sweet spot in the oil and gas sector."
RenewableUK chief executive, Hugh McNeal, said: "This contract in Northern Ireland demonstrates the offshore wind industry's commitment to using local companies to build their projects as well as securing 200 jobs in Belfast.
"Harland and Wolff is an iconic company with 150 years of construction history, and it's great to see renewable energy will be playing an important role in its future. We're confident that British companies will be able to win similar work not only here, but around the world as the industry continues to grow."
Recommended for you

Work starts on ScottishPower's East Anglia 3 offshore wind project