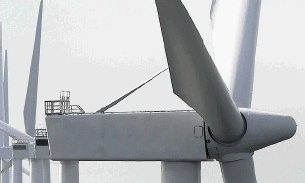 Key offshore cable trenching work for the word's largest offshore windfarm will be carried out by Aberdeen firm Canyon Offshore.
The company will start work on the multmillion-pound sub-contract, awarded by Germany's Siem Offshore Contractors (SOC), on location at Dong Energy's Hornsea Offshore Wind Farm Project One (HOW01) scheme, off the Yorkshire Coast, during the final quarter of next year.
Canyon's involvement is expected to last five months and will see the firm carry out trenching for about 90 miles of inner array grid cabling that will have been laid on the seabed by SOC.
The project will be managed from Canyon's offices in Dyce, Aberdeen.
Euan Roberts, commercial and sales director, Canyon, said: "We have built up an enviable track record in providing successful trenching solutions to the offshore windfarm market in recent years in the North Sea, successfully burying hundreds of kilometres of inner array grid cables.
"This has complemented our traditional oil and gas trenching market and extended our brand into the renewables industry."
SOC's contract for HOW01 was announced last November, further strengthening the contractor's interests in the UK after the company established an office in Aberdeen.
Canyon is a wholly-owned UK subsidiary of the Helix Energy Solutions Group, headquartered in Houston, Texas, which is an international offshore energy services company focused on well intervention and robotics.
HOW01, 75 miles off the Yorkshire coast, is expected to meet the electricity needs of more than 1million UK homes.
Once completed, it will be the largest offshore wind farm in the world – comprising 174 giant turbines with a total capacity of up to 1.2 gigawatts and enough cabling to stretch from John O'Groats to Land's End.
It will cover more than 157 square miles – about 58,500 times the size of the home of the nearest English league football club, Grimsby Town.
Recommended for you

Third Beatrice survey contract supports 50 jobs at Rovco