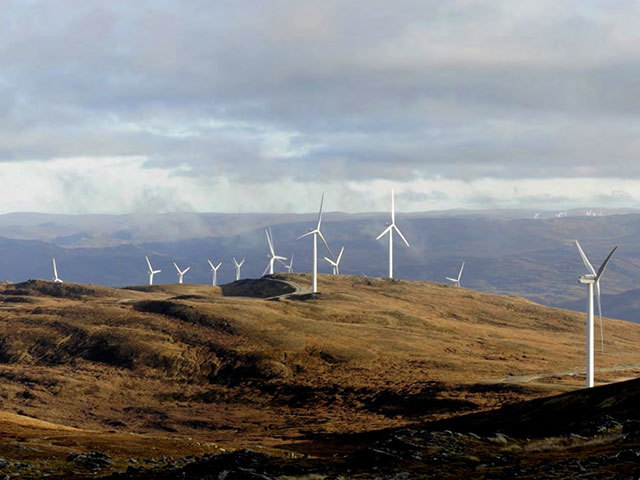 A Danish billionaire has lost his fight against the Scottish Government over a major windfarm which threatens the view from his Highland estate.
Anders Povlsen had sought a judicial review through his company Wildland into the decision to allow a controversial windfarm in Sutherland.
But the Court of Session has now refused the request to have the decision set aside.
Mr Povlsen is furious over the Scottish Government giving permission for the windfarm on the Altnaharra estate, owned by Jim Gray, 82, the founder of the Gray and Adams transport company, in Fraserburgh.
A petition which was used to back the controversial windfarm was alleged to have been hijacked by people from Doncaster, Dunfermline and Fraserburgh.
Opposition politicians have demanded that the Scottish Government reconsider its decision to approve the 22-turbine Creag Riabhach development, since local support for the project was one of the main arguments ministers relied on in giving it the go-ahead.
Lord Boyd of Duncansby, who heard the judicial review, said Wildland Ltd's position appeared to be that no windfarm whatsoever should be allowed on designated wild land areas.
The judge said: "That may be, but that is a political decision and not one for the courts."
Following the publication of the Court of Session judgment, a spokesman for Wildland Ltd said: "We are saddened and disappointed at the court's decision.
"Let there be no doubt – this development is a substantial incursion into the wild land area between Foinaven, Ben Hee, Arkle, Ben Hope, Ben Loyal and Ben Klibreck – from whose summits this industrial-scale development will be highly visible.
"We suspect the same can be said for Suilven, Quinag and Canisp in Assynt as well."
The Creag Riabhach turbines will be visible from several of Mr Povlsen's properties.
Helen McDade, head of policy at the John Muir Trust, previously said: "We were surprised and disappointed by the decision to approve Creag Rhiabach and argued that the application should have been subject to the scrutiny of a public local inquiry.
"We believe this could potentially open the floodgates to yet more damage
to our wild land," she added.
Mr Povlsen, who owns clothing house Bestseller, is believed to be the second largest private landowner in Scotland, after the Duke of Buccleuch, who has 240,000 acres.
Recommended for you

Court throws out firm's £400m lawsuit for ScotWind lease damages