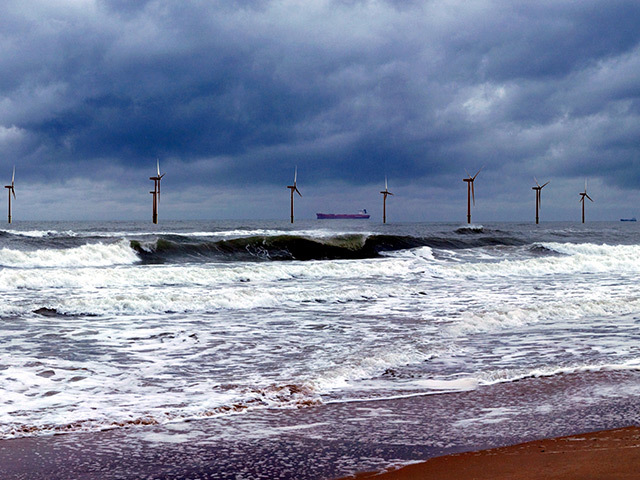 Turbine blades at Aberdeen Bay windfarm clocked record speeds during yesterday's gale force winds, according to the project operator.
Storm winds which battered Scotland averaged up to 67mph in the north-east, causing the world's most powerful blades to hit a top speed of 192mph.
It's understood the 262 foot rotor blades at the site, also known as the European Offshore Wind Deployment Centre (EOWDC), managed to complete a six second rotation, resulting in near 200mph speeds.
The fast pace of the turbines opened up debate on social media as to the top speed.
Kevin Jones, head of Vattenfall's EOWDC, said last night: "There is currently very strong winds blowing across Aberdeen Bay and the EOWDC is operating at full power, meeting the equivalent fossil free electricity demand of around 70% of Aberdeen's households.
"The eleven turbines at the EOWDC – the most powerful in the world – are designed to operate in these conditions and the blade tips can rotate as fast as 230mph.
"Whilst we don't normally measure blade speeds during operation, the estimates we are seeing on Twitter will not be far off the mark."
The EOWDC has been in operation since summer 2018.
Part funded with an EU grant of €40 million, the project tests and demonstrates latest offshore wind technology and is supporting a scientific environmental research programme.
Swedish windfarm operator Vattenfall installed eleven turbines at the facility last year, with two 8.8 megawatt (MW) turbines and nine 8.4MW versions of the MHI Vestas V164 model.
The Aberdeen Bay Windfarm will produce the equivalent of more than 70% of Aberdeen's domestic electricity demand and annually displace 134,128 tonnes of carbon dioxide.
Last month, Vattenfall tabled a request to Marine Scotland to extend the life of the windfarm from 22 years to 25 years.
Jeremy Cresswell, former chairman of Aberdeen Renewable Energy Group (AREG), claimed blades smaller than those off the Aberdeen coast are "able to almost reach the speed of sound", adding that the turbines should "certainly be able to reach such speeds".
Recommended for you

EMEC unveils plans for floating wind test site off Orkney