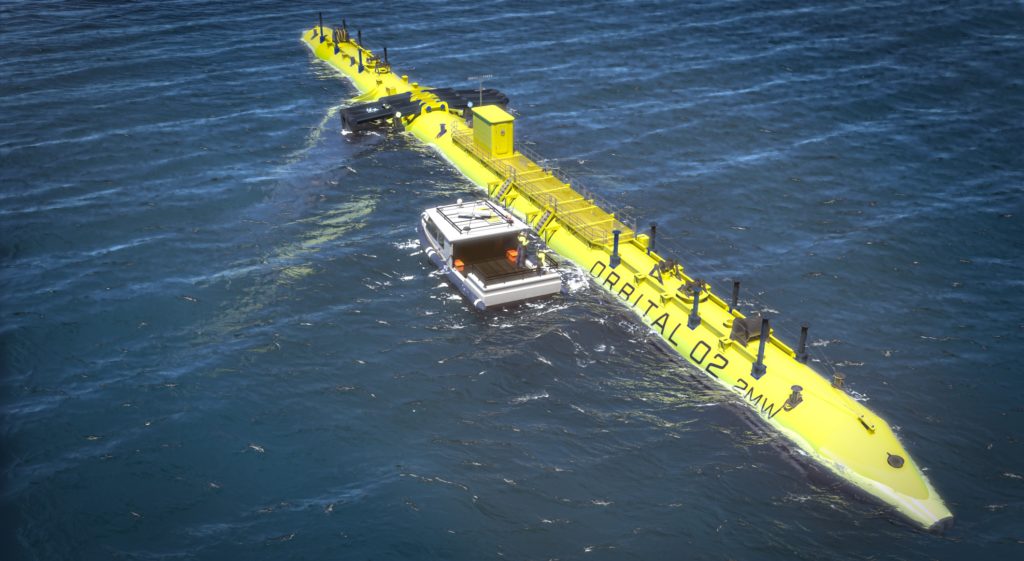 An Orkney-based marine energy firm has clinched a multi-million investment target to build the world's most powerful tidal turbine.
Scottish firm, Orbital Marine Power, announced it had reached the £7 million investment goal on New Year's Day 2019.
The investment will fund the construction of the first production model of the Orbital O2 two megawatt (MW) turbine.
Orbital Marine Power, formerly Scotrenewables, said that the project had received "strong interest" from Scottish investors, who put in 50% more on average.
The firm has already secured a number of supporting grants and private-equity funding, with the the Scottish Government also providing investment.
Andrew Scott, chief executive of Orbital Marine Power, said: "We are delighted with this funding result. It's a terrific endorsement of our technology and a clear signal that the UK public is hugely supportive of seeing tidal energy brought into the domestic and global energy mixes.
"The whole team at Orbital Marine are excited to be moving forwards with this flagship project and deliver the first O2 unit for costs similar to offshore wind and so provide the basis for a new and sustainable industry. This a journey we are now honoured to be taking with thousands of new investors."
Orbital Marine announced an industry benchmark last year as the SR2000 tidal turbine generated more power in the past year than the entire Scottish marine energy sector managed in the 12 years prior to its launch.
Bruce Davis, co-founder and director of Abundance, said: "2019 promises to be the best year yet for the environmental and social investment sector, and it feels significant that our largest investment to date reached its £7 million target on New Year's Day. The UK can rightly claim to be a world leader in tidal generation technology and our customers have backed it enthusiastically."
Orbital Marine Power revealed it plans to build its Orbital O2 2MW turbine over the next 12 months, for deployment at Orkney's European Marine Energy Centre (EMEC) during 2020.
Last year, multi-millionaire technology developer Matt McGrath was named as a new investor in the company.
Mr McGrath, who sold his firm Aircraft Medical for £72 million, will join the Orkney-based company's board of directors, joining his sister Sian George who has chaired the board since February 2016.
Recommended for you

Marriage plans for wave energy and offshore wind in Scotland