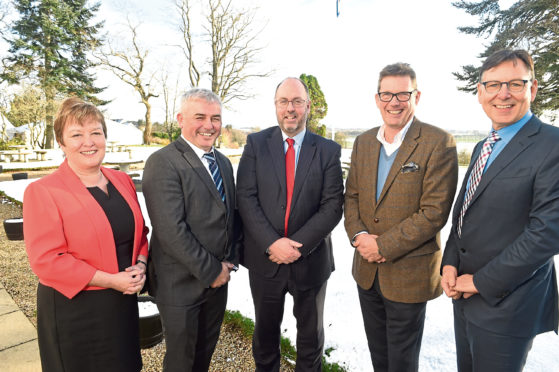 Skills honed in the North Sea oil and gas industry could be key to the north being chosen for an offshore wind "cluster" to deliver a stream of multi-million-pound projects.
That was the message yesterday from Dan Finch, a director of the £2.6 billion Moray East wind farm, who said experience gained offshore was vital to his sector as it tackles the challenges of developing deep sites in increasingly deep water locations.
His comments came at an event to mark the Port of Cromarty Firth's (PCF) selection as an intermediate port for the construction of the 100-turbine Moray East development under a £10m contract.
The UK Government is considering a number of areas around Britain for the establishment of an offshore renewables hub.
Mr Finch said: "The PCF is a trust port, a well-established focus for local economic activity with extensive local relationships.
"Moray East will not only create new economic opportunities for the local economy directly through its construction, but in the longer term it helps open up development and expansion of facilities at the port."
He added: "The success of the collaborative approach at the PCF demonstrates the north of Scotland's potential as an offshore wind cluster, where sustained industrial success – ultimately aiming towards exports – can be achieved through delivery of a pipeline of offshore wind projects."
Work on a £30m expansion of the PCF's infrastructure is now under way.
The project, being carried out by civil engineering firm Roadbridge UK, is due to be completed by next March – ahead of the port's 18-month role in the Moray East development.
PCF chief executive Bob Buskie said: "The port's team worked for over two years to secure this contract for the benefit of the local area."
He added: "It will attract jobs and investment for the coming years, offering countless opportunities to local people and businesses."
Recommended for you

Exclusive: Energy Transition Zone proposed by Sir Ian Wood appoints CEO