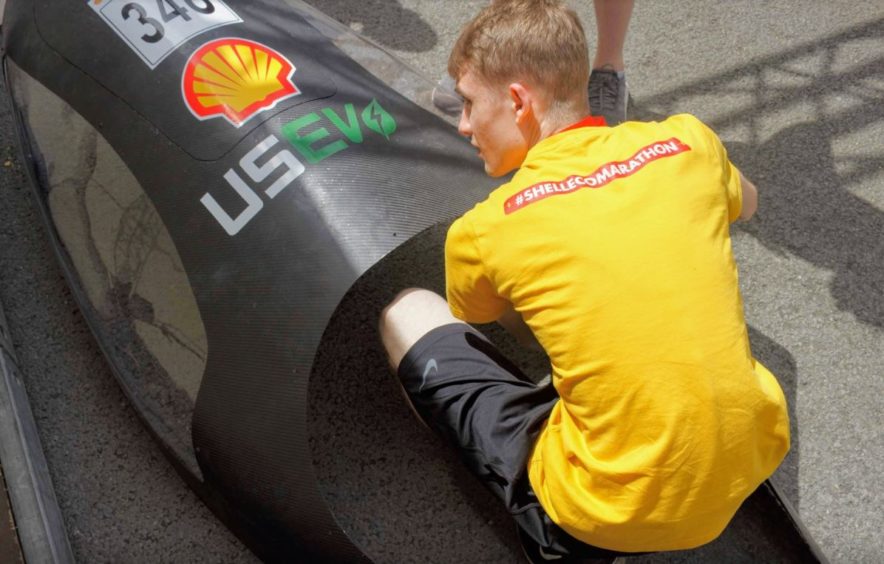 The historic Brooklands motor racing circuit in Surrey is this week alive with the sound of – well not very much really, as hundreds of eco-friendly vehicles glide around it in virtual silence.
The racetrack is part of Mercedes-Benz World, this year's venue for Shell's annual Eco-marathon. It challenges students from around Europe and further afield to design and build energy-efficient cars capable of completing 11 laps (15.6 km) of the circuit in a maximum of 39 minutes using only one litre of fuel or the battery equivalent.
This year 100 prototype and 46 urban concept vehicles have been registered.
The 35th Eco-marathon is part of Shell's Make the Future Live 2019 event, which also features the company's inaugural Energy Summit and schools programme.
The event has been well attended, with competitors from over 100 UK, European and international universities entering with a view to showing off their futuristic models and winning the prizes on offer, one of which is a trip to the Scuderia Ferrari headquarters in Italy.
Aberdeen and Strathclyde universities are representing Scotland, with both teams saying their experience has highlighted the need for society to prepare for the energy transition, with transportation at the heart of that shift.
Aberdeen University team leader Alessandro Rigola said his team had drawn on Shell's experience in fuel cells to help prepare his group's hydrogen-powered vehicle for the technical inspection all entrants must go through before they hit the track.
He said: "The people at Shell have been very helpful.
"Every time they pass by our tent they give us suggestions on things we had never thought of because these people have years and years of experience."
Mr Rigola said the experience of leading the team had reinforced his desire to get into the energy industry after he graduates.
He said: "One of the things I found most interesting about this project was finding out about different types of energy.
"I think hydrogen is a very interesting one for the future."
Asked if he thinks hydrogen will be the fuel of the future, Mr Rigola added: "I think it will be very important, yes.
"But I think in the future there will be a big energy mix and hydrogen will be a key part of that."
Over at the University of Strathclyde tent in the paddock, team leader Martin Riis said his group was learning about maximising energy use.
He said: "The process has really taught us how important the conservation of energy is these days and how big a focus efficiency is above things such as performance."
Riis identified battery storage as a key focus in the future energy mix.
He added: "I've been doing a lot of work with batteries and battery management systems which will become more and more important in the future."
An even younger generation of potential future engineers were also present to see the teams at work.
Children from local schools flocked into the complex to visit the paddock and also hear a panel of young engineers discuss their careers to date.
It was hosted by Countdown's Rachel Riley who added a pinch of celebrity stardust to proceedings.
Shell's CEO Ben van Beurden is due to attend on July 3.
He will visit the competitors and emphasise the importance of the event in getting the next generation of engineers to drive the energy transition forward.