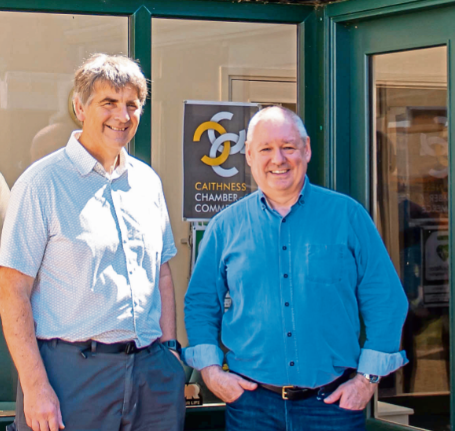 An Inverness firm of architects is expanding across the Highlands.
HRI Munro will this week open a new office in Thurso.
The firm has an expanding portfolio of work in the county and on Orkney and have appointed Castletown-based architect Alan Gray as an associate of the new practice.
HRI Munro has been involved in a number of jobs in Caithness over recent years including work surrounding a number of major renewable projects.
They believe this shows the potential for healthy growth in the region.
Founder and director at the firm, Andrew Bruce, said: "We worked with MeyGen on the onshore facility at Canisbay, serving their tidal power array and we are currently completing the onshore facilities for the Beatrice Offshore Windfarm in Wick, which involved the conservation and conversion of two complete blocks of Old Pulteneytown.
"We are working extensively for Orkney Islands Council on education buildings and other facilities and also have current hotel and private residential projects in Caithness.
"All in all, we are confident and optimistic for a steady and growing demand for locally-based architectural services over the next few years".
HRI Munro Architecture has been providing architectural services throughout the Highlands and Islands for more than 20 years.
Originally opened by Mr Bruce as a regional office of the national practice of The Hurd Rolland Partnership, it was responsible for Phase 2 of the Eastgate Shopping Centre in Inverness and a wide range of projects on Skye, Wester Ross and Caithness.
Mr Bruce subsequently acquired the Inverness office when the parent company of Hurd Rolland, badly affected by the financial crash of 2008, restricted its operations to the Central Belt.
Joined by co-director Mark Williams and renamed HRI Architects, the business subsequently acquired the Inverness practice of Hector MacDonald Associates and in 2016 incorporated longstanding Inverness Architects Thomas Munro & Co to become HRI Munro Architecture.
Since then the firm has expanded and now employs 10 staff, is responsible for a wide range of projects throughout the Highlands, including the Beatrice Offshore Wind Farm operation and maintenance base in Old Pulteneytown in Wick, onshore facilities for the MeyGen Tidal Power array at Canisbay, the Links Building in Golspie and a wide range of conservation projects as diverse as works to Inverness Cathedral and Cromarty Courthouse to the conservation of the Helmsdale War Memorial and ongoing renovation works to the North Head War Memorial in Wick.
The practice was recently successful in being appointed for a three-year framework contract by Orkney Islands Council and is now working on a wide range of educational and public building works.
Current and future projects in Caithness and Sutherland include a number of residential projects, future operational facilities for offshore wind farm developments, hotel expansion works and further work at Wick Airport.