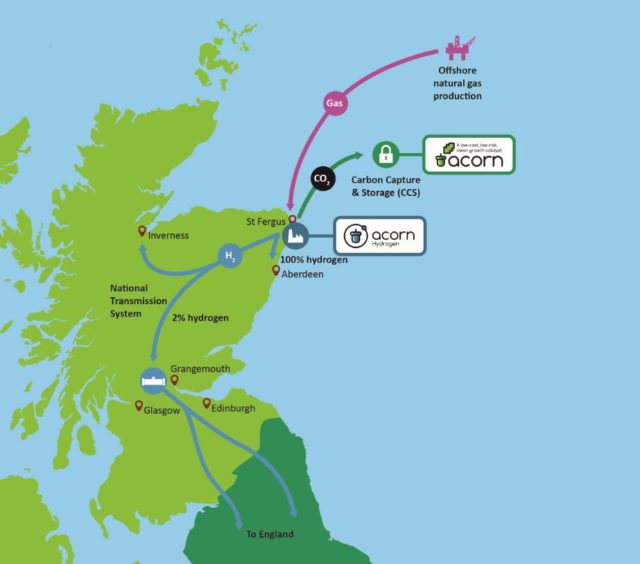 An Aberdeenshire project has been awarded £2.7million to test and develop a cost-effective way or converting North Sea gas to a clean fuel.
The Acorn project at the St Fergus Terminal near Peterhead, which is split into two units focussed on carbon capture and storage (CCS) and hydrogen development, has been granted the cash through a UK Government fund to reduce industrial emissions.
Over a period of 13 months Acorn, run by Pale Blue Dot, will carry out engineering studies on how to convert gas landed at St Fergus to hydrogen while also removing associated carbon dioxide emissions.
This could then be used to reduce the amount of CO2 from heating homes by gradually introducing hydrogen into the gas grid, which Acorn hopes to begin in 2025.
It comes as the Acorn development, backed by oil and gas operators Chrysaor, Shell and Total, is "on track" to have an operational CCS project at St Fergus from 2024.
Any emissions from converting gas to hydrogen would then be stored in depleted North Sea gas fields via the CCS development.
Pale Blue Dot's commercial director, Sam Gommersall, said: "Acorn Hydrogen is a hugely exciting project that is a critical step for Scotland and the UK to reach its ambitious climate change targets.
"We are working extremely hard, alongside our project study partners: Chrysaor, Shell and Total, to progress this important component of the wider Acorn initiatives, in the aim that Acorn Hydrogen's first injection of hydrogen into the gas grid is in 2025.
"Blending as little as 2% hydrogen into the National Transmission System would remove 400,000 tonnes of CO2 per year from the energy system, and that is just the starting point with an ambition to decarbonise all the natural gas flowing through St Fergus."
The UK Government has awarded the funding as part of the second phase of its Hydrogen Supply Competition, which is a total pot of £90m to help cut CO2 from homes and businesses.
Minister for business, energy and clean growth, Kwasi Kwarteng, said:  "Hydrogen offers the opportunity of a cleaner, greener fuel for heating our homes and getting us from A to B.
"The innovative Acorn project is a clear step in that direction – particularly in this year of climate action."
Acorn has already been assessing the potential to introduce hydrogen into the gas network through work with SGN.
Pale Blue Dot hopes to have "critical infrastructure" in place to expand Acorn CCS and the hydrogen development by the mid-2020s.
St Fergus currently processes around 35% of the UK's gas supply and is expected to continue doing so through to at least 2040.
Recommended for you

Equinor's Trollvind project was born out of power necessity