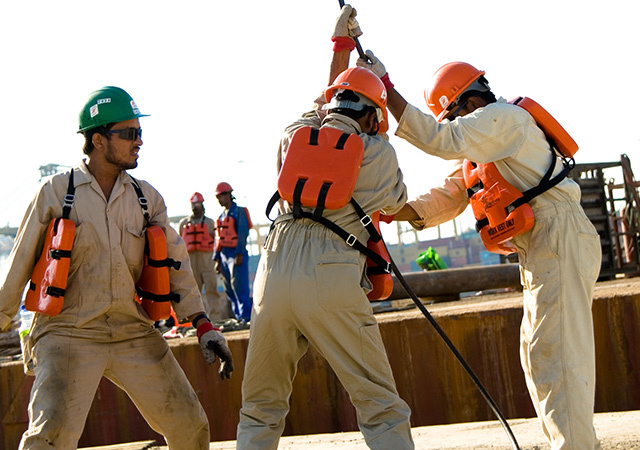 United Arab Emirates-based firm Lamprell has been announced as one of the contract winners to manufacture jackets for a mammoth Scottish offshore wind development.
The deal will see the firm construct 30 substructures, jackets, transition pieces and suction caissons for Total and SSE Renewables 120-turbine Seagreen Offshore Wind Farm, off the coast of Angus.
The contract, understood to be a multi-million pound deal, was awarded by Subsea 7's Aberdeen-based subsidiary Seaway 7.
Lamprell said fabrication work is expected to be complete in the middle of 2021.
It will deliver the jackets to Seaway 7 at the group's deep water quayside in Hamriyah Port in the UAE, to be then transported by Seaway 7 to the offshore wind farm in the North Sea.
Christopher McDonald, chief executive of Lamprell, said: "We are delighted to have been selected to be part of the major Seagreen offshore windfarm project.
"Having worked on similar projects in the renewables segment, our workforce is skilled and experienced to execute the project with a focus on the key drivers of safety, high quality and profitability.
"We see substantial growth opportunities in the renewables sector, which is a core strategic focus for Lamprell, and we are excited to work with Seaway 7 on this project in the months to come."
The news will come as a blow for Scottish firm Burntisland Fabrication(BiFab), who are in negotiations to supply a portion of the jackets for the Seagreen project.
However, Energy Voice reported this week that BiFab is likely to miss out on the bulk of the work for a North Sea wind project, which changed hands in a multi-million pound deal that saw French oil and gas giant Total purchase of a 51% stake in the giant wind project.
The development represents a near-£3 billion global investment for Total and developer SSE Renewables.
But a source with knowledge of the situation told Energy Voice that BiFab would lose out on any meaningful work on the project.
Recommended for you

Offshore wind a chance to 'reverse multi-generational' Highlands skills exodus