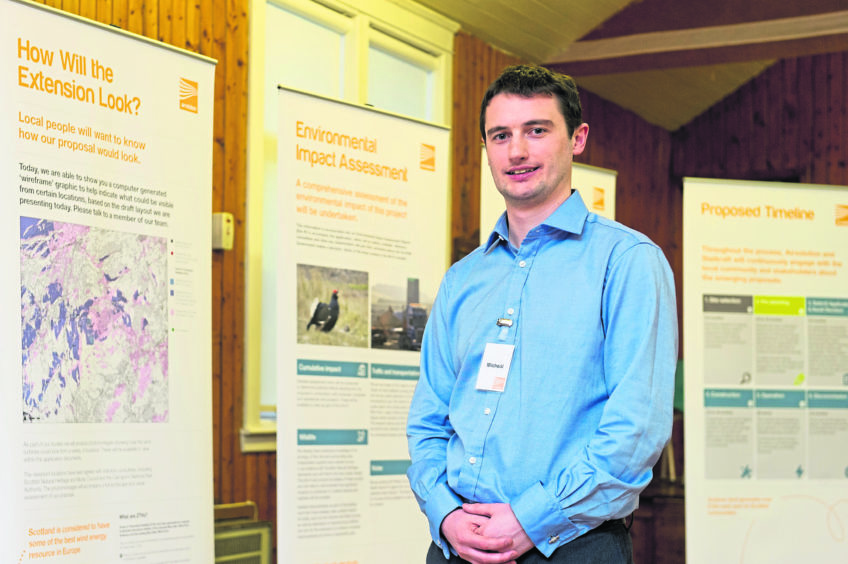 A developer has submitted plans to the Scottish Government to expand one of the largest wind farms in Moray.
Statkraft is proposing to add nine 490 foot turbines to the 29 that are already operational at the Berry Burn site, about eight miles south of Forres.
Advances in technology since the development was built six years ago mean the new turbines are expected to generate the same amount of electricity as those already running.
The expansion proposals have been scaled back from the original 10 turbines put forward following discussions with consultees and community representatives over the last 18 months.
Changes mean the nearest tower will now sit more than four miles away from Dallas and means the development avoids an area of deep peat.
A wind farm of the planned size would ordinarily be decided by Moray Council officials.
However, documents have been submitted directly to Scottish Government ministers for consideration as the plans need to be considered in combination with the existing development.
Statkraft estimates that the additional turbines will generate enough electricity to power 35,500 homes for a year.
Mícheál Ó Broin, senior project manager, said: "Our plan has evolved and we believe it is even stronger than it was at the outset.
"This project is a great example of the rapid advances in turbine technology.
"In 2014 we installed a 29-turbine wind farm, generating electricity for approximately 48,000 homes.
"Within a short space of time we are looking at a nine-turbine project which will provide for over 35,500 homes.
"Furthermore, because of this increased capacity, the extension would deliver roughly the same amount of community funding as the 29 turbines."
If approved, the additional turbines will lead to an extra £189,000 of community funding for groups to support projects in the area.
Statkraft says it will work with Moray Chamber of Commerce to maximise opportunities for local suppliers to benefit from the work.
Meanwhile, a separate development proposed for a nearby site will be the subject of a public inquiry next month.
Developer Force 9 Energy is proposing to build a potential 48 turbines, each up to a maximum of 590 feet in height, on a site almost encircling the existing Berry Burn location.
Scottish Government officials will begin hearing evidence about the project at sessions due to commence at the MacDonald Resort in Aviemore from September 1.
Submissions about the 29-turbine Rothes III development, which has been proposed about two miles west of Rothes, will be held at the same time.
Recommended for you

Corio teams up with Vietnam's FECON for offshore wind power