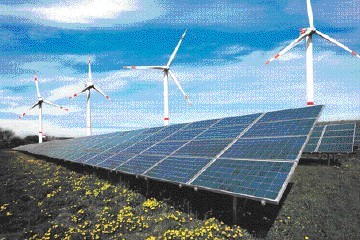 A trio of trade bodies have announced a new partnership to help promote and drive the transition to a net zero economy.
RenewableUK, Solar Trade Association (STA) and techUK aim to unite energy buyers with green energy providers to encourage power purchase agreements (PPAs), which they claim can underpin decarbonisation efforts in the sector.
A number of clean energy projects are currently in the pipeline, with more than 10 gigawatts (GW) of large scale solar energy due to be delivered in the UK in the next few years.
A further 2GW of solar and 3.5GW of wind generation has also received planning permission and grid connection agreements are in place.
With the announcement of the new partnership, the trio aim to put businesses at the front of the green recovery.
TechUK will be encouraging its member companies to consider setting up long-term PPAs to stimulate UK-based renewable energy generation.
In parallel, the STA and RenewableUK will be encouraging their members to work more closely with the UK technology sector to integrate smart systems into the growth of the renewable, as well as to assess the potential of emerging technologies such as artificial intelligence and machine learning.
To achieve this, the three organisations are planning a series of initial activities, with an online marketplace scheduled to take place later this month.
Re-Source UK Virtual will showcase industry case studies, offer the latest market information and provide opportunities for buyers and sellers to meet.
Further events will take place next year while an online guide on the best routes to ensure operations in the technology and communications infrastructure sector are fully powered by renewable energy will also be drawn up.
Julian David, chief executive of techUK said: "The technology sector is already the largest corporate buyer of renewable energy in the world. We are committed to working with the UK's renewable sector not only to bring more new renewables onto the grid as part of our own efforts to decarbonise our operations, but also to support companies in the sector in understanding how emerging technology can support their businesses."
Barnaby Wharton, director of future electricity systems at RenewableUK, added: "Wind and solar are the cheapest forms of new power generation which will lead the green economic recovery the UK needs.
"Events like RE-Source UK Virtual later this month offer precious opportunities for companies to sign Power Purchase Agreements to stimulate that recovery and to reach net zero emissions at the lowest cost. I'm delighted that we'll be working more closely with techUK and the STA to deliver, the smart, flexible power system of the future faster than anyone expects".
Chris Hewett, chief executive of Solar Trade Association said: "Private sector leadership is vital to deliver a net zero economy. We are proud to strengthen our commitment to working with the UK's technology sector to accelerate decarbonisation and the transition to clean energy."
Recommended for you

More pace needed on transition, lest net zero become another missed target