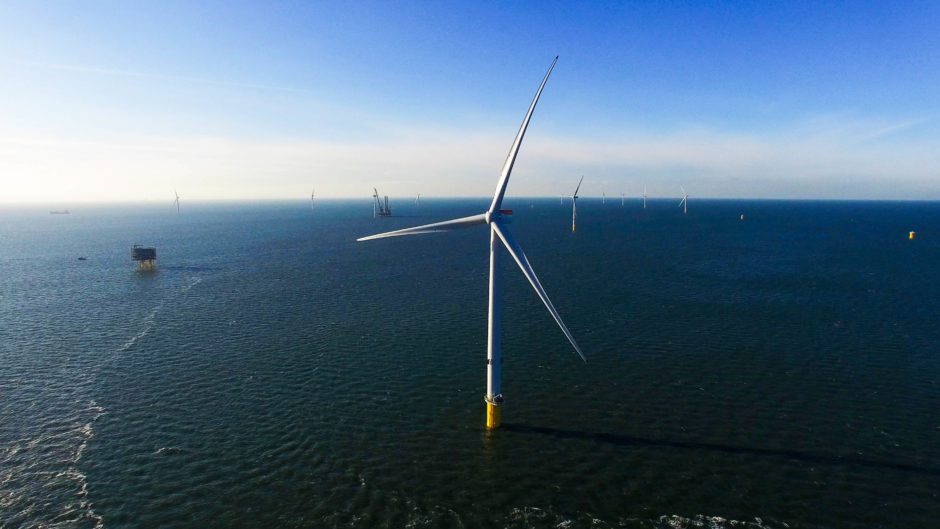 Biting costs mean less than half of the planned pipeline of green hydrogen projects globally is likely to be up and running by 2035, according to Rystad Energy.
There are 60GW of utility-scale (above 1MW) green hydrogen projects  – those powered by renewable sources – currently planned, dominated by Europe and Australia collectively planning 11.
More than 85% of this will come from major gigawatt-scale plants – for comparison, Hornsea 1, the UK's largest windfarm, is a 1.2GW project to power over a million homes.
However, with costs biting, less than half of this global pipeline is likely to be operational within 15 years, Rystad said.
It comes as the technology plays a growing role across Europe and globally in governments' green Covid recovery plans.
Rystad head of renewables Gero Farruggio said: "Despite the growing pipeline, we forecast less than half of this capacity (30 GW) will be operational by 2035, as developers will need to lower production costs.
"Government support will be required to advance projects more quickly, particularly for those developments that will be powered by costlier offshore wind."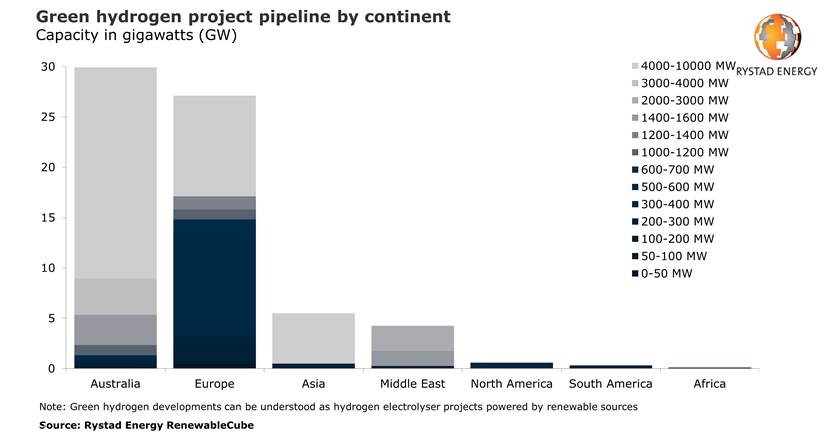 The Offshore Wind Industries Council (OWIC) recently reported green hydrogen could be worth £320bn to the UK economy by 2050, supporting 120,000 jobs.
Meanwhile it was recently announced Dolphyn, the world's first floating green hydrogen scheme, will be coming to Aberdeen.
However Rystad said developers globally need to cut production costs, particularly those using offshore wind, which will prove vital in scaling up green hydrogen.
It comes as the UK Government has made a pledge this week for a major scale-up of offshore wind capacity to power every UK home by 2030. It currently accounts for just 10% of the country's electricity.
Dolphyn developer ERM said it hopes to cut into production costs by using economies of scale once it deployed on a larger wind farms over time.
The majority of  Europe's planned hydrogen electrolyser schemes are powered by onshore wind and solar, Rystad said, though this offers less capacity.
It said Europe has "little choice" but to rely on offshore wind to develop large scale green hydrogen, but these electrolyser projects will likely rely on government support for the "next decade" to be viable.
Offshore wind is roughly twice the cost of onshore, and four times that of onshore solar, making it less attractive to countries with onshore capacity, the company said.
Pure renewable energy developers "dominate" the global green hydrogen pipeline, however oil firms like Shell, Repsol and BP have all announced green hydrogen concepts this year, said Rystad.
Register for free to join Energy Voice's virtual Energy Transition Idea Exchange (ETIDEX) summit on November 19 at www.etidex.co.uk
Recommended for you

bp JV poised to be largest solar player in Australia