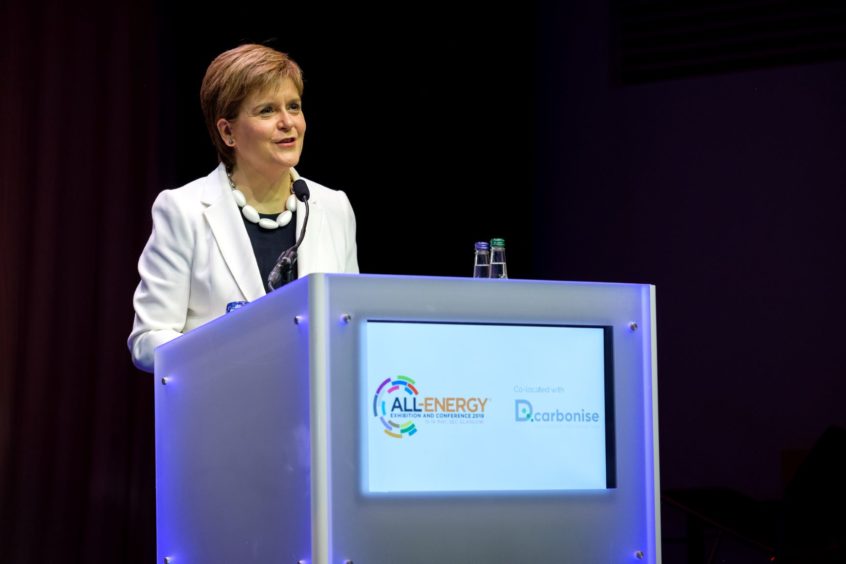 Nicola Sturgeon has warned that climate change, not Covid, remains the "greatest long-term challenge" facing the world ahead of a key international summit in Glasgow next year.
Scotland is 12 months away from hosting world leaders at the United Nations COP26 conference, which the First Minister described as "one of the most important global gatherings of our time" while opening All-Energy on Wednesday.
Glasgow would have been hosting the event this year, however it has been pushed back due to the virus.
But while opening All-Energy, a conference focussed on low carbon and renewables, Ms Sturgeon said Covid must not detract from Scotland's focus on climate change.
She said: "In a year's time the eyes of the world will be on Glasgow. This time next year, we'll be three days into Cop26, one of the most important global gatherings of the century so far.
"If it weren't for Covid, of course, we would currently be days away from Cop26. For Scotland, as for other countries, responding to the pandemic will continue to be an overwhelming focus for some time to come.
"However, as we deal with the threat of Covid, we must never forget that the climate emergency is the greatest long-term challenge facing our world."
The First Minister highlighted efforts such as "world leading" targets for Scotland to reduce emissions by 75% by 2030 and go net zero by 2045.
She also highlighted investment in heat decarbonisation, Scotland's green jobs fund and energy transition funding to help oil and gas firms diversify.
Later this year the National Investment Bank is also due to open, whose "primary ambition" will be to drive Scotland to a net zero economy.
Ms Sturgeon added: "The next 12 months will, therefore, see significant progress, even as we continue to tackle Covid and recover from its consequences. That's hugely important.
"When COP takes place in Glasgow next November, I want people to recognise Scotland as a country which, having pioneered the industrial age, is now showing the leadership needed for a net zero world.
The First Minister said none of this can be done without the "vital" low carbon and renewables sector in Scotland.
"I'm already hugely grateful for the incredible work of our low carbon and renewables sector", she said.
"You're the reason Scotland already has an international reputation in this field, so the Scottish Government is determined in supporting you in the future.
"We recognise that you're vital to Scotland's long-term success, so let me thank all of you for the contribution you are making."
Register for free to join Energy Voice's virtual Energy Transition Idea Exchange (ETIDEX) summit on November 19 at www.etidex.co.uk
Recommended for you

The Energy Capital MP: New SNP Commons leader Flynn's North Sea record