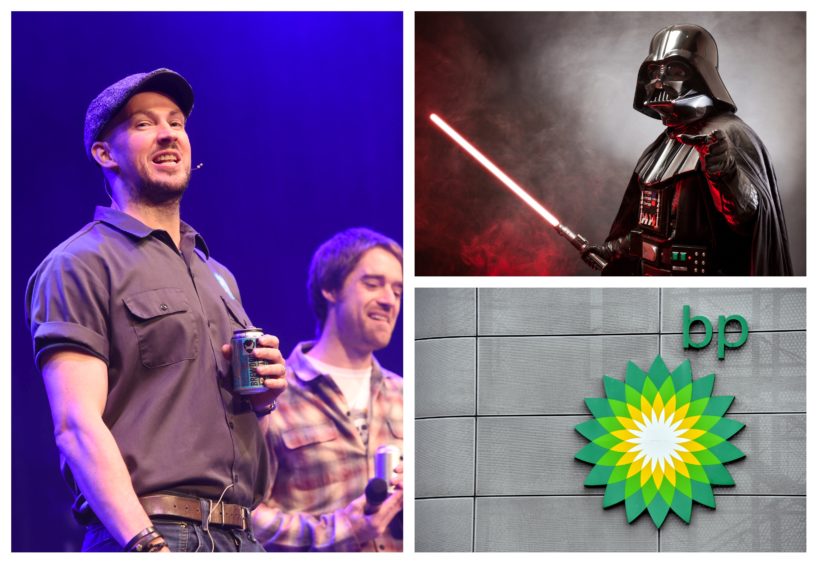 The CEO of Brewdog has entered into a public spat with BP over its carbon emissions, comparing the energy giant to "Darth Vader".
Earlier this week the advertising standards authority banned a BrewDog advert, with large text reading "F*** You CO2", which James Watt posted on Linkedin.
A BP employee, who works in the field of carbon emissions, questioned why the advert was banned, asking "was it the juvenile language or the flaky CO2 negative claim".
However, the brewery struck back with Mr Watt saying "having your sustainability credentials criticised by BP is like having your empathy criticised by Darth Vader".
He added: "BP's callous indifference towards our planet is as astonishing as their green-washing rhetoric."
BP declined to comment.
Brewdog, which is headquartered in Aberdeenshire, gained praise earlier this year after going carbon negative by using methods like forestation to offset its emissions, including scope 3, which covers CO2 from its supply chain.
Its Sustainability Report states that Brewdog is doing so by planting 1million trees in a 2,000-acre forest, which Mr Watt said would "remove twice as much carbon from the air as BrewDog emits", which totalled nearly 68,000 tonnes of CO2 last year.
The BP worker, who said he was speaking as an individual, added he  "struggles to see how it adds up or is validated".
Brewdog has been contacted for a response.
In his personal retort, Mr Watt said it was "all based on hard science and verified by Professor Mike Berners-Lee", a world-renowned environmental researcher.
The report said "all of the carbon removal work at the BrewDog forest will be third party verified with regular share updates and reports on our progress".
That document, published earlier this year, hit out at BP and other firms like Nestle and Unilever for being "too late" with their climate pledges.
For BP's part, the energy giant has committed to going net zero by 2050.
More immediately, the firm has pledged to cut oil production by 40% within the decade while increasing renewables investment.
BP has been hit hard by the Covid-19 pandemic which, coupled with the acceleration of the energy transition, has led to the firm announcing 10,000 job cuts.