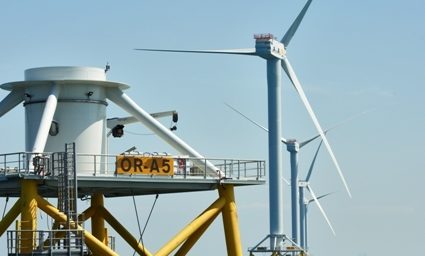 The RMT has accused Vattenfall of threatening to "fire and re-hire" its members of staff in an alleged dispute over changes to contracts.
However, the Swedish renewables giants has denied using such tactics and has insisted that the alterations will leave staff better off than they are currently.
The union's claims relate to workers at Vattenfall's Barrow base in the north-west of England, which services the firm's 30-turbine Ormonde wind farm in the Irish Sea.
According to the RMT, staff have objected to proposed changes to their terms and conditions, including cuts to annual leave.
It also claimed that anyone who does not accept the proposals has been told they'll be fired and then re-hired under the new conditions.
Vattenfall's five workers in Aberdeen have already agreed to the proposals and discussions have concluded.
The RMT said it has advised the firm, which is owned by the Swedish government, that a dispute situation now exists and that it will ballot members for industrial action, unless the perceived threat against union members is withdrawn.
Mick Cash, RMT general secretary, said: "Vattenfall co-chair the Offshore Wind Energy Council and we expect them to demonstrate their commitment to good industrial relations and employment practices in the UK offshore wind industry by taking the nuclear threat of fire and re-hire off the table and to get back around the negotiating table with RMT."
However, Vattenfall has been quick to defend its actions and has refuted the claim that it is threatening its workers.
The company has also stressed that it is not in any sort of formal discussion with the RMT, that the union is not involved in the process and that it is liaising directly with workers.
The contract changes are part of the Stockholm-headquartered firm's wider harmonisation process, which intends to unify the firm's UK operations.
A spokesman for Vattenfall said: "Our UK offshore wind teams are key to Vattenfall's operations and to the goal of reaching net zero by 2050.
"Vattenfall has been in discussions with our teams to ensure consistent and fair terms and conditions at all our offshore wind farms in the UK.
"Our proposals have been accepted by the vast majority of our offshore workforce. They will not leave any employee financially worse off, nor will they affect continuous service or benefits entitlements, or reduce the amount of paid leave people can take.
"Vattenfall has not made any threat of termination and re-engagement. We have been transparent in our consultation process and next steps – this is a straightforward process which enables our employees to be part of our future strategy, including better terms and conditions than their current contracts."
Recommended for you

Sparrows avoid strikes as workers secure 10% pay rise