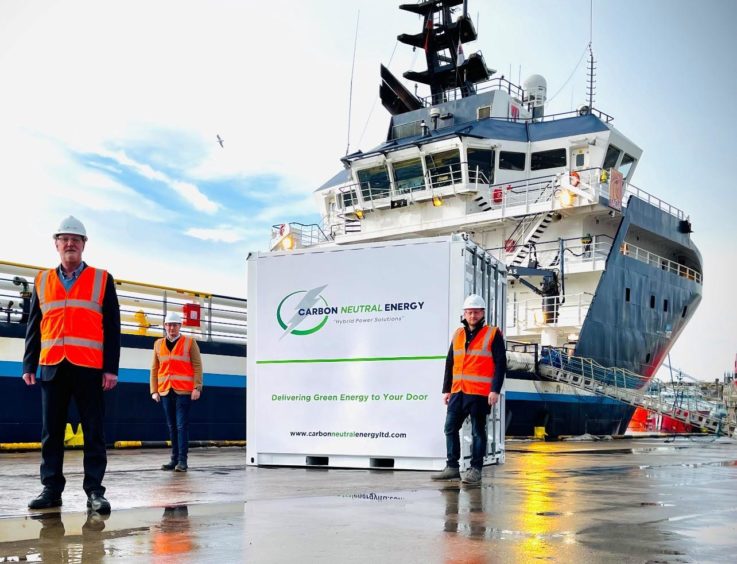 Carbon Neutral Energy (CNE) has brought in a marine and shipping sector veteran with a bulging contacts book to help speed up the fledgling green battery firm's growth.
Announcing the appointment of its first non-executive director, CNE bosses said Callum Bruce's knowledge would be "invaluable" as the Aberdeen start-up looks to tap into those industries.
Callum Bruce spent 35 years in marine and shipping, 20 of those as chief executive of North Star Shipping, said to be the largest offshore support vessel operator in the North Sea.
Entrepreneur Mark Patterson founded CNE last year alongside his sons Harry and Philip after spotting a gap in the market for green electricity storage technologies.
CNE's systems store and supply green electricity, helping address the problem of intermittent supply from wind and solar farms — and the "inadequacy" of the UK's power infrastructure.
Last week, CNE said it was launching a major fundraising exercise in an effort to build up the business.
CNE intends to raise a total of £300 million in stages and create up to 200 jobs over the next five years.
Its eGen range includes smaller static units, which can be combined to make "mega storage banks", and larger mobile modules.
Mr Bruce said the green battery market was an "extremely exciting space" and that he was hugely impressed with CNE's progress.
He added: "Being able to move to green power without the major capex involved in costly infrastructure is of major interest to the shipping and marine sectors and I'm relishing the opportunity to work alongside Mark and the team to pursue the opportunities in this sector."
Recommended for you

Batteries becoming one answer to Big Shipping's decarb dilemma