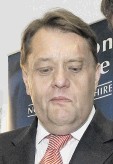 UK Government ministers were under fire last night after failing to reaffirm their commitment to fund four pioneering carbon capture and storage (CCS) developments.
Labour challenged Britain's energy chiefs in the Commons yesterday to say if they still stood by the pledge, which was part of the Conservative-Liberal Democrat coalition agreement.
Plans to build a CCS facility at Peterhead's gas-fired power station appeared this week on a shortlist of four projects in the Department of Energy and Climate Change's £1billion contest.
The government had been due to announce the winners of the competition this autumn, leading to claims that the final funding decision had been kicked into the long grass.
New Energy Minister John Hayes sidestepped the question yesterday when his opposite number, Labour's Tom Greatrex, asked if the pledge remained policy.
Mr Hayes said: "The competition that the honourable gentleman refers to is a competition which will allow a record level of investment in carbon capture and storage, in which Britain is a world leader.
"It is critically important that in dealing with emissions we recognise what my honourable friend has said and what the honourable gentleman has acknowledged – that carbon capture and storage can be a vital part of those ambitions."
Mr Greatrex suggested that CCS backers – such as Shell and SSE, which are behind the plans for Peterhead – would be alarmed.
"I'm sure the industry, who has expressed some concern over the last couple of days, will have heard the failure of the minister to confirm whether those four projects are still going to be funded," he said.
Mr Greatrex said later: "The government must make clear whether the coalition agreement commitment on CCS still stands."
Recommended for you

Tories told to finally end the north-east's long wait for carbon capture cash