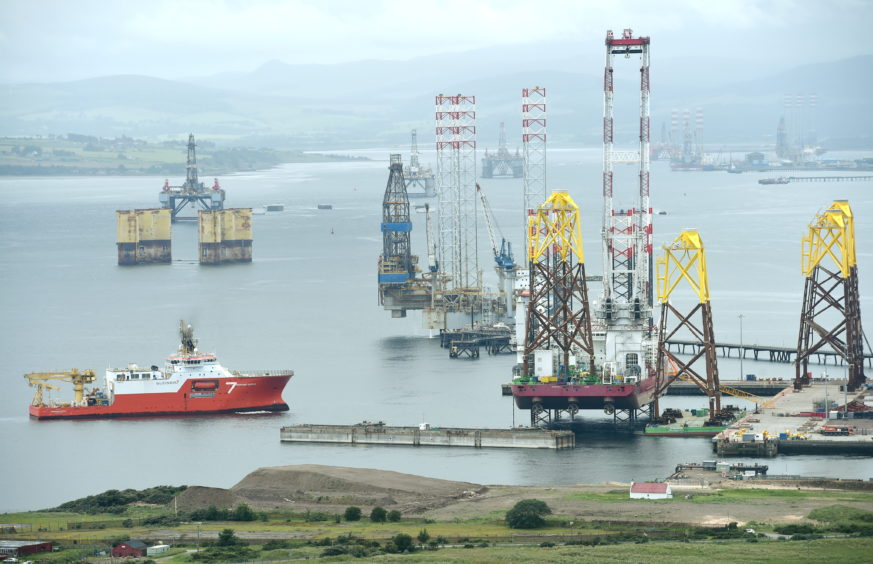 Creation of "greenports" will let Scotland compete with England for offshore wind manufacturing work, according to a Cromarty Firth boss.
Bob Buskie, CEO of the port, made the comments after the UK Government this week revealed £95million for offshore wind port upgrades at Teesside and Humber.
The pair are expected to create 3,000 jobs each, coming after both sites were named "freeport" locations in the Chancellor's budget this month.
The government said it was thanks to this status, and the Westminster backing, that GE Renewable Energy announced a new wind blade factory for Teesside, bringing 750 of those jobs.
"Freeports" are customs zones with less tax regulations and levies on goods entering and leaving the country, which the UK Government hopes will regenerate deprived areas as hubs for business and commerce.
The Scottish Government has adapted this policy as "greenports", creating a package of customs and tax relief, with a focus on net zero.
Steering group Opportunity Cromarty Firth is making a bid for the Highland region to become one of these greenports, with potential wind jobs on the horizon.
Port CEO Mr Buskie congratulated Teesside and Humber on their success, adding that he expects greenports to create a "level playing field" with the English sites.
He said: "Opportunity Cromarty Firth (OCF) is already seeing similar interest for large offshore wind production facilities because of our proximity to Crown Estate Scotland's Offshore Wind Leasing sites.
"These opportunities form a major part of OCF's own greenport bid. We need to make sure Scotland capitalises on this investment interest and attracts more manufacturing facilities, so the benefits of Offshore Wind are felt by communities and supply chain businesses across Scotland.
"The eagerly awaited Greenport (Freeport) status for Scottish Ports would enable us to achieve this and compete on a level playing field with the new freeports in England."
In October, Global Energy Group announced plans for a £100million offshore wind plant at the neighbouring Port of Nigg, expected to become "the UK's largest".
Cromarty, a trust port, is responsible for shipping movements in the waters by Nigg.
Global Energy Group has not said how far along it is in terms of its funding goal, however it is one of the members of the OCF steering group calling for greenport status.
A total of eight freeport locations have been named in England, and the Scottish Government has said the creation of two greenports in Scotland would be "fair and proportionate".
Scottish trade minister Ivan McKee wrote to Treasury secretary Steve Barclay this month, calling for these sites to receive similar levels of UK seed funding as freeports do.
The Department for Business, Energy and Industrial Strategy (BEIS) has not responded to a request for comment.
Scotland has, to date, a track record of losing out on manufacturing work for major offshore wind projects on its own front door, evidenced by the collapse of the BiFab manufacturer, with sites in Fife and Arnish.
Following the Humber and Teesside announcement, Gary Smith, Scotland Secretary of the GMB Union, expressed concern.
"Britain's green jobs of the future are being carved-up today and Scotland isn't at the races. This is a huge boost for Humberside and Teesside, it could be transformative, but communities in Fife will be asking why Scotland never wins", he said.
"Without proper collaboration on industrial planning and supply chain investment, Scotland will continue to export offshore wind manufacturing jobs to the rest of the world and the rest of the world will do business with other areas of the UK."
Recommended for you

Highlands cable factory: Sumitomo won't build without £24.5m government grant