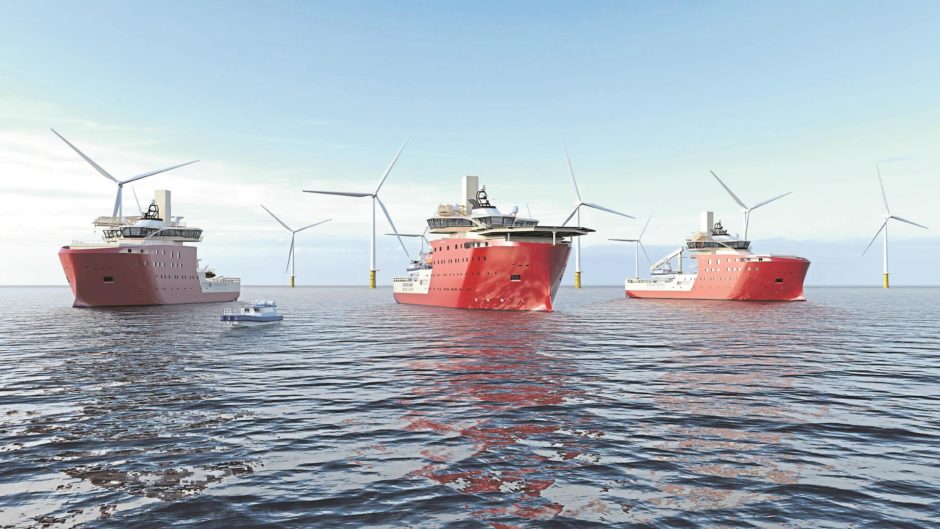 Shipping group North Star is to take on 130 new workers after landing a £270 million contract for the world's largest offshore wind farm.
The Aberdeen company will supply three "state-of-the-art" service operation vessels (SOVs) for use on the Dogger Bank project about 80 miles off the Yorkshire coast.
The huge North Sea development is being led by partners SSE Renewables, Equinor and Eni.
North Star's three ships will be chartered for an initial 10-years, with options for three one-year extensions.
The company said its fledgling renewables subsidiary fought off "strong international competition" to secure the deal.
Norwegian energy giant Equinor, which will operate Dogger Bank, is expected to take delivery of the first vessel from North Star in 2023.
The 130 new jobs are crewing and shore-based roles, some of which will be based at the firm's headquarters in Queens Road. Others will be based at Port of Tyne, home to Dogger Bank's operations base.
Recruitment is expected to start a year before the first ship is due to be delivered to Port of Tyne.
North Star – owned by London and New York-based investor Basalt Infrastructure Partners – currently employs 1,400 people globally, including 950 in the UK.
There are 71 shore-based employees in Aberdeen, with 265 crew from throughout Scotland adding to the home country headcount.
The contract award is a green energy first for the group, which launched its North Star Renewables subsidiary last year to service the offshore wind industry.
North Star chief executive Matthew Gordon said: "Of our 130 new skilled and long term roles, 120 will be qualified marine crew.
"While it is too early to provide specific details on where these crew members will be resident, it is always our objective to recruit crew who live as close to the operational port as possible.
"We are pleased and proud to establish a new relationship with Equinor, and looking forward to working collaboratively with them and their partners."
Construction of the three SOVs is being carried out by an undisclosed overseas shipbuilder, with work due to start imminently.
Engineers and technicians working on the Dogger Bank project will spend two weeks at a time on board each of the North Star vessels, which have been under design for the past two years.
Dogger Bank will have a total installed capacity of 3.6 gigawatts – enough to power an estimated six million homes.
Due to its size and scale, the project is being delivered in three stages, the first two of which have already reached financial close. The overall development is due to be fully completed in 2026.
Halfdan Brustad, VP for Dogger Bank at Equinor, said: "We are pleased that a UK supplier wins these contracts in a tough international competition. The awards will create a good basis for North Star to expand their services to support the UK's growing offshore wind sector. Dogger Bank is at the forefront of innovation, and we want to attract the best talents to come work on this ground-breaking project.
"The high-end SOVs will ensure our teams have a comfortable stay offshore, which is important before a day's work on the turbines. We have incorporated leading technology to ensure we can operate the wind farm safely, sustainably and efficiently."
Steve Wilson, SSE Renewables Project Director for Dogger Bank Wind Farm, Project Director said: "The jobs that these contracts bring to Scotland, the North East and the UK are a welcome boost and all part of the role Dogger Bank is playing in the UK's green recovery.
"It's an important milestone for the project and when delivered, these state-of-the-art hybrid vessels will have a critical future role in ensuring the safe and efficient maintenance of the development when it reaches the operational phase."
Scottish Economy Secretary Fiona Hyslop said: "This is excellent news for Aberdeen-based North Star Renewables, who are relatively new to the offshore wind sector but have a wealth of experience operating in the North Sea's oil and gas sector.
"This contract is a welcome example of our domestic supply chain benefitting from the operation and maintenance of an offshore wind project."