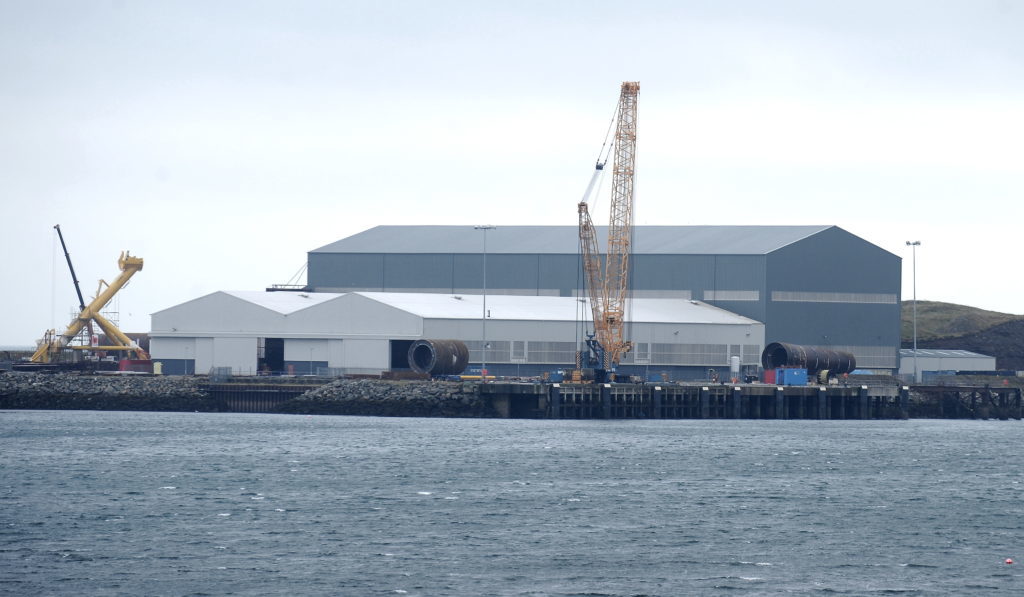 Campaigners on the Isle of Lewis are calling for "safeguards and guarantees" that the Arnish yard will benefit from future work secured by its new owners.
Action for Arnish said it is "very wary" of the facility becoming an accessory to other yards in the Harland & Wolff group, after a multi-million pound contract win for the firm's facility in Fife.
It was announced on Friday that InfraStrata, Harland & Wolff's owners, had secured a £26 million deal with Saipem, the tier-one service provider for the Neart na Gaoithe (NnG) Offshore Wind Farm.
The London-listed firm bought the Methil and Arnish yards earlier this year in a deal worth up to £850,000 after the collapse of previous owners Burntisland Fabrications (BiFab).
InfraStrata will manufacture and load-out eight wind turbine generator jacket foundations for NnG, which is under construction in the outer Firth of Forth.
As many as 290 indirect and direct jobs, 260 of which will be new, are expected to be created at the Methil site, where the work will predominantly be carried out.
The firm said its other yards, which are operated through its Harland and Wolff subsidiary, could provide support to the project as required, although no firm commitments were made.
John Wood, InfraStrata's CEO, said the company's new structure gives it scope to bid for "bigger projects" as they can be split "across the group".
He also said there's a hope that, as the NnG contract winds up, one of the other "potential projects" currently being discussed will come to fruition and "slot in after it".
Senior council figures on the Isle of Lewis welcomed last week's announcement, voicing optimism that it could breathe new life into the Arnish yard, which lay idle for prolonged periods under BiFab.
However, Action for Arnish says it's concerned the "stop-start" nature of the facility could continue and has called for a meeting with InfraStrata's bosses.
A spokeswoman for the group said: "We would obviously welcome any work coming into Arnish in the short term but we are very wary of becoming an appendage to other yards in this group. If that happens, it will be more stop-start and no job security for a regular workforce.
"It is not in our interests to be negative about Infrastrata but we do need safeguards and guarantees that it is not going to be a re-run of BiFab. At the moment, we are largely in the hands of Highlands and Islands Enterprise who are negotiating the Arnish lease with Infrastrata.
"We will ask for an early meeting with John Wood to see what first hand information we can secure."
A spokeswoman for InfraStrata said: "We thank Action for Arnish for welcoming the news of our latest major fabrication award from Saipem and encourage the group to reach out by contacting info@infrastrataplc.com."
Recommended for you

Saipem completes work at Neart na Gaoithe wind farm