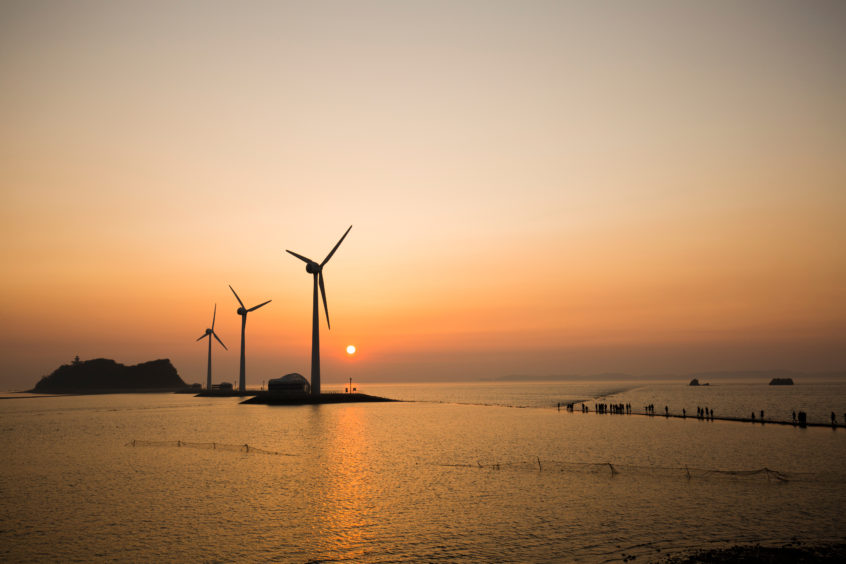 Korean National Oil Corporation (KNOC) said it will pursue its development plan for the nation's first floating wind development after the 200MW Donghae-1 project passed a crucial feasibility study.
KNOC is leading the Donghae-1 development on behalf of partners Equinor of Norway, and local companies Doosan Heavy and utility East-West Power (EWP).
State-backed KNOC yesterday welcomed the approval of the preliminary feasibility study by the Korea Development Institute (KDI), adding that it will now "respond to the government's Green New Deal policy and prepare for the transition to the future eco-friendly energy era by pursuing the Donghae-1 floating offshore wind power project in earnest."
Equinor said "we're pleased with the positive results of the preliminary feasibility study on Donghae-1. Offshore wind, particularly floating wind, will play an important role in South Korea achieving its renewable energy goals, and we look forward to continuing our good collaboration with KNOC and EWP to progress the project."
Still, commercial floating wind turbines remain at the early stage of development. However, the floating offshore wind power market in Asia Pacific could offer investment opportunities worth up to $58 billion as a significant market for the technology is emerging, according to Wood Mackenzie.
South Korea, which currently has only 125MW of offshore wind operating, aims to deploy 12GW of capacity by 2030. Some analysts believe the this will only be achieved by developing floating wind instead of fixed-bottom projects, as wind turbines can be located in deeper waters further from shore. This reduces visual pollution, avoids potential flashpoints with fishing fleets and other marine users, and reaches stronger and more consistent winds.
Asia generally has limited availability of shallow water compared to Europe, and most of it is located very close to shore, where the wind resource is less. As a result, Asia could see the rapid development of commercial scale floating offshore systems, especially around the waters of Japan, Korea and Taiwan.
South Korea is banking on its proposed 8.2GW Sinan project that will cost $43 billion to help meet its 12GW target by 2030. The scheme was announced earlier this year and if successful would be the world's single largest offshore wind development.
South Korea has also become a magnet for exploration and production players, such as Total, Equinor and Shell, that have all taken stakes in offshore wind development projects there.
The offshore wind market in Asia is expected to experience massive expansion over the next five to 10 years, particularly in the more advanced economies of Taiwan, Japan and South Korea, as governments face increasing pressure to focus on climate change and hit their net-zero emissions targets.
Recommended for you

Asia's offshore mega wind farms risk delays from ship shortage