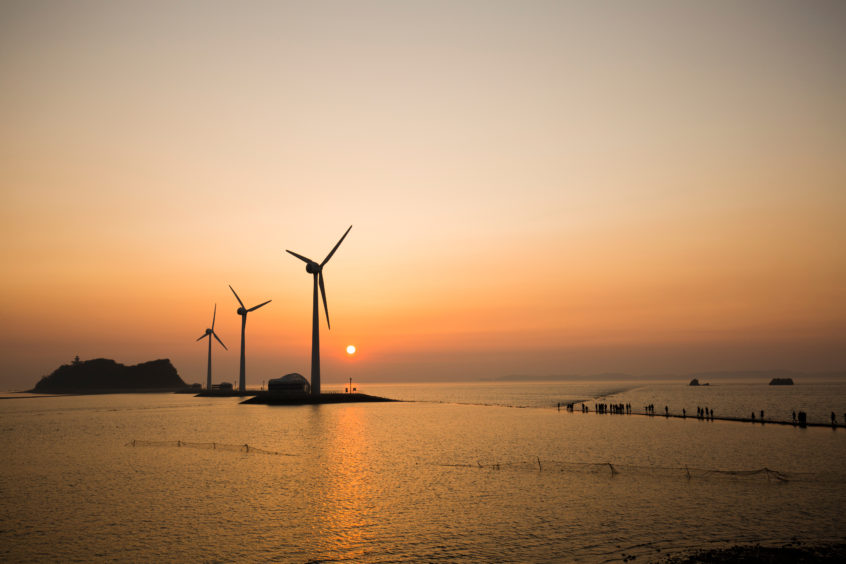 News that South Korea aims to build the world's largest offshore wind farm by 2030 follows moves by major exploration and production companies to establish a foothold in the nascent market.
Earlier this month South Korean president Moon Jae-In announced the proposed $43 billion scheme, which if successful, would become the world's single largest offshore wind development.
The project, part of South Korea's efforts to be carbon neutral in 2050, will be built off Sinan on the country's south-western coast. It has a planned capacity of 8.2GW and could help boost the nation's wind power capacity to 16.5GW by 2030. Officials said the wind farm will produce energy equivalent to the output of six nuclear reactors.
Significantly, as South Korea seeks to accelerate its energy transition efforts, it has become a hotspot for exploration and production players, such as Total, Equinor and Shell, that have all taken stakes in offshore wind development projects there.
In particular, South Korea's south-west coast has become an offshore wind hot spot, attracting Aker Solutions, Copenhagen Infrastructure Partners and state-backed Korea National Oil Corporation (KNOC) too. The investors may be enticed by the existing infrastructure at the nearby Donghae gas field, which could help cut capital investment, said analysts as research group Rystad Energy.
With a strong pipeline and government commitment, the offshore wind sector in South Korea is poised for strong growth. Rystad expects the country will hit 12GW of installed wind capacity by 2030. While bottom fixed farms will dominate in the early stage of development, the challenging ocean terrain means more capital intensive floating offshore wind farms should be expected.
Indeed, the floating offshore wind power market in Asia Pacific could offer investment opportunities worth up to $58 billion as a significant market for the floating technology is emerging, said analysts at Wood Mackenzie.
The following companies have agreed to provide $42.4 billion for South Korea's proposed 8.2GW offshore wind farm: Korea Electric Power Corp (Kepco), SK E&S, Hanwha Engineering & Construction, Doosan Heavy Industries & Construction, CS Wind Corp and Samkang M&T. The government will provide the remaining $802 million.
The government's ambition to boost renewable energy was reinforced in its third Basic Energy Plan announced in June 2019 with a renewable energy target of 20% by the year 2030 and 30-35% by 2040.
Large-scale solar projects are a possible solution but are constrained by land, environmental and permit issues. Therefore, an increasing focus has been put on offshore wind power.
Still, some analysts have raised doubts over South Korea's proposed 8.2GW world-record offshore wind plan. There are question marks over the monopoly role of utility Kepco, the nation's poor track record in renewables and uncertainties about who would supply turbines to the mega-project.
Underscoring the potential of offshore wind, Rystad said global capacity would increase by 37% this year, mostly due to new installations from China. The report said global offshore generation capacity rose 15% in 2020 despite the coronavirus pandemic, to a total 31.9GW. The report added China accounted for 39% of that increase.
Rystad said China would account for 63% of a total 11.8GW increase this year in offshore wind capacity.
Recommended for you

Asia's offshore mega wind farms risk delays from ship shortage