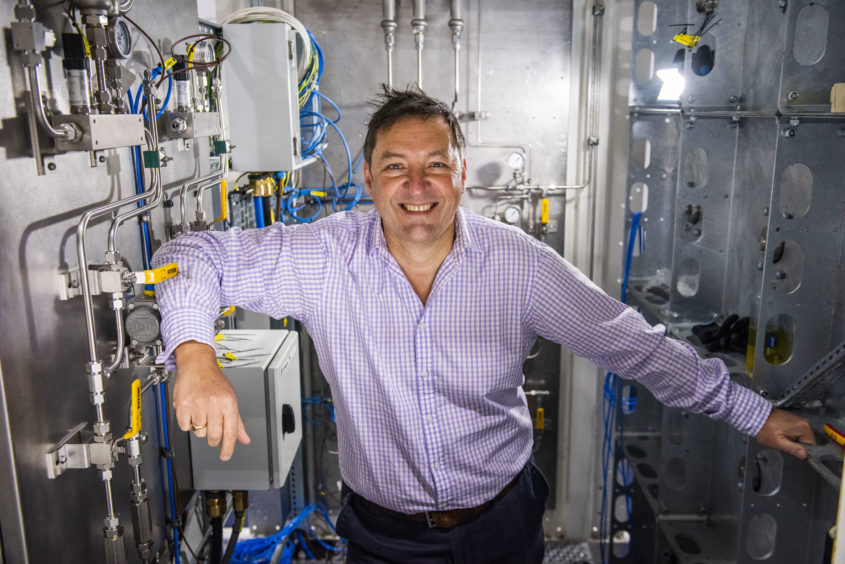 Logan Energy, the Scottish hydrogen technology firm, is "hedging its bets" on the global take-off of the low-carbon fuel.
Started up in the UK in 2005, with offices in the Netherlands too, it's now China that's taking up time for chief executive Bill Ireland.
After an investment in November 2019 from Kelvin Capital, Logan set up a joint venture in China with Henan Lanxing Power Equipment Company to deploy its expertise there.
Ireland said: "That's what we want to do in other locations, whether that be the Americas, Australasia, or Africa, and support, basically sustainable energy production and usage."
China, due to its sheer size, "quite often dwarfs what we do in the rest of the world", Ireland said, pointing to the importance of the market.
"And you can see that in the manufacturing deployment of PV, electric vehicles, all those sorts of things. So they sort of swamp the quantities we're putting out in the west."
Logan, which designs, installs, manufactures and maintains integrated energy systems, has dealt with hydrogen for 26 years (having first launched in the US in 1995), but the conversation has really heated up just recently.
In the last three years, Logan has doubled headcount year-on-year, taking it to above 30 now, as excitement grows.
That has included the addition of some "heavy hitters" like Ian Marchant, formerly of Wood and SSE, joining the board as chair.
Bob Macdonald, also formerly of Wood, and ex-Baker Hughes man Derek Mathieson are now non-executive directors to support Logan's expansion plans.
But Ireland isn't in any doubt about the challenges ahead, or the need for UK firms to get in on the action.
"If we don't grab it now, it will move elsewhere and we're sort of hedging our bets with wanting to deploy around the world as well," he said.
"And it's really changing; you can't listen to news or pick up a newspaper without hearing something about hydrogen. Which is great for us, it's brilliant, but there's also a lot of hype so we just need to be careful that we don't over promise and under deliver.
"To a degree, hydrogen really won't take off without policy adjustments I think, and without recognition of the consequences of what we've been doing over the last few decades and centuries, that we actually need to do something, change it and value things differently."
Ireland suggests incentives for battery electric or fuel cell electric vehicles, around hydrogen or electricity generation or infrastructure to deploy the vehicles.
He said: "We're talking about fairly near-term deadlines for the removal of combustion engines from the market, but you've got to have an alternative to be viable and that's not just a component of it, that's the whole system around it."
Getting it right could mean a big prize domestically and overseas: Scottish Renewables recently issued its 310,000 jobs by 2045 prediction for hydrogen, which some have been sceptical of.
Ireland said: "If you look at the oil and gas sector in Aberdeen and the growth of that, you can quite easily see how those sort of figures can be generated."
But Scotland, or indeed the UK, doesn't reach that prize without the right policies in place, Ireland said.
"There's a lot of money out there," he said. "Money that wants to invest in and around hydrogen and renewables and what they need is some surety on a return on their investment."
Ireland is hopeful the COP 26 climate conference in Glasgow in November will provide some "cohesion" on policy.
He added: "What's easiest, what's cheapest is usually the way the human race goes, not necessarily thinking about what the long-term consequences are. I think cohesion is what we need and everybody to say, 'actually, we've got to do something about this, this is serious'.
"I'm sure hydrogen is part of the future. It's not the answer, it's part of the answer. It takes all different types of technology to solve our energy and resource demands."
Recommended for you

The Megawatt Hour – Episode 6: Energy storage in a 100% renewable grid