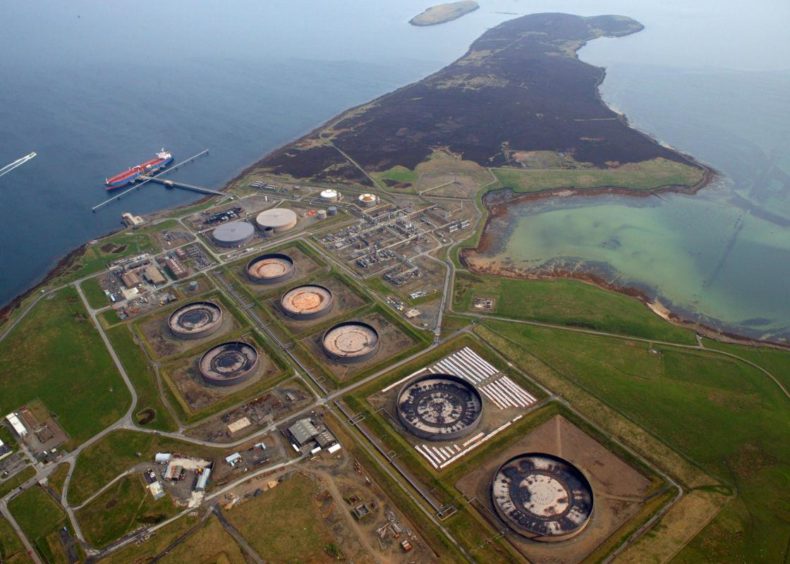 Repsol Sinopec has said "organisational changes" are to be made at the Flotta oil terminal in Orkney as the firm explores energy transition opportunities.
A spokesperson for the company said: "We are evaluating a number of emissions reduction and energy transition opportunities, for which Flotta is well positioned to support in partnership with other companies."
Flotta which has been serving the North Sea for more than 40 years, is operated by the Spanish-Chinese joint venture firm.
Repsol Sinopec (RSRUK) said there will be organisational changes, but aims to "minimise staff reductions and will explore redeployment opportunities where possible".
The operator has not confirmed how many redundancies could be made, but said the changes will result in the terminal having a new and more efficient operating model.
It's understood a meeting with workers took place on the plans on Tuesday.
Unite the union is currently in dialogue with the company on how the move might affect its members, with another meeting taking place on the plans next week.
Celebrating the site's 40th anniversary in 2017, Repsol Sinopec said it planned to keep the terminal running beyond 2030.
The terminal was inaugurated in 1977 after Occidental North Sea Group, comprised of Occidental Petroleum, Allied Chemical, Getty Petroleum and Thomson North Sea selected a landfall for their newly-discovered Piper field, 125miles east of Caithness.
In 2019, a consortium of RSRUK, the OGTC (now known as the Net Zero Technology Centre), Aquatera, Cranfield University, EMEC Hydrogen and NOV revealed plans to convert the terminal into a test centre for hydrogen projects.
However, it is understood this project has now been dropped and Repsol Sinopec is no longer party to it.
The aim of the project, called Hydrogen Hub Orkney, was to trial different types of technologies for deploying them offshore on oil platforms.
The island of Flotta was chosen due to its existing supply chain.
Updated at 17.25 with Repsol Sinopec statement removing mention of green hydrogen.
Recommended for you

'We are not afraid to go first': Repsol rises to decom challenge