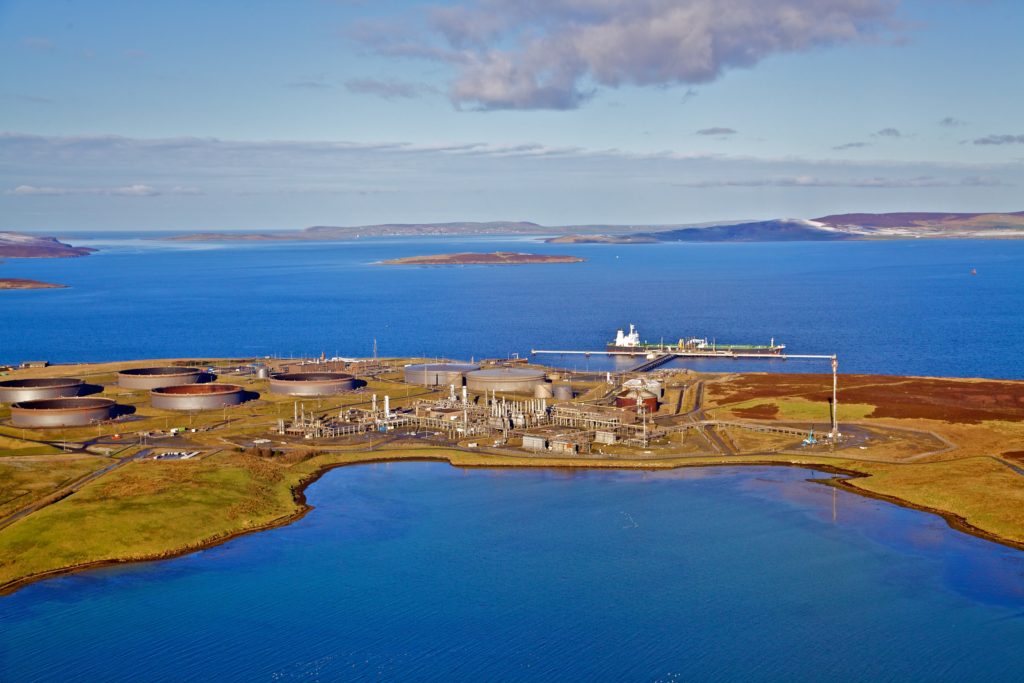 A consortium is seeking additional partners to advance an Orkney project aimed at converting North Sea platforms into hydrogen producers.
The group intends to create a test centre at Flotta Oil Terminal for trialling different types of technologies with a view to deploying them offshore.
The project is understood to have been unsuccessful with a recent UK Government funding bid, but several alternative "funding stream opportunities" are being explored.
Production of hydrogen, a clean fuel, has been identified by the oil and gas industry as an area where it can prove its worth in the race to a net-zero emissions future.
The Oil and Gas Technology Centre (OGTC) is leading the consortium, which also includes Flotta operator Repsol Sinopec Resources UK (RSRUK), Aquatera, Cranfield University, Doosan, EMEC Hydrogen and NOV.
Supported by £500,000 of UK Government backing, they have completed "conceptual" studies weighing up different technologies and the feasibility of applying them offshore.
Project partners now intend to progress to phase two, involving the creation of the hydrogen test site and the undertaking of pilot studies and front end engineering design work.
It was decided that Flotta was perfectly situated due to the area's existing supply chain.
An application for additional government funding potentially worth millions of pounds was submitted to drive the scheme forward. The bid was unsuccessful.
But those behind the hydrogen offshore production (HOP) project believe they can still press on, despite the snub.
The HOP consortium will look to sound out external partners early next year and are eager for more oil companies to back the scheme.
OGTC project engineer Hayleigh Pearson said HOP would tackle the "national challenge" of securing low carbon energy supply while repurposes existing infrastructure and workforce skills.
Keeping the platforms in use for longer would also put off the need for decommissioning, she said.
She said methane reforming and electrolysis powered by offshore wind were among the hydrogen production technologies being considered.
Chris Pearson, marginal developments solution centre manager at the OGTC, added: "Significant renewable energy potential exists in Orkney and existing infrastructure already supports our philosophy of reuse and repurpose.
"There is demand for hydrogen over a broad range of applications from domestic boilers in our homes to all forms of transportation including cars, heavy haulage and aircraft, through to agriculture and marine industries."
Dick Winchester, a member of the Scottish Government's energy advisory board, said he was "in favour" of producing hydrogen offshore.
But he said the fact that this could be achieved using wind or gas reforming was already known.
He also lamented that no Scottish Universities were involved.
Recommended for you

'We are not afraid to go first': Repsol rises to decom challenge