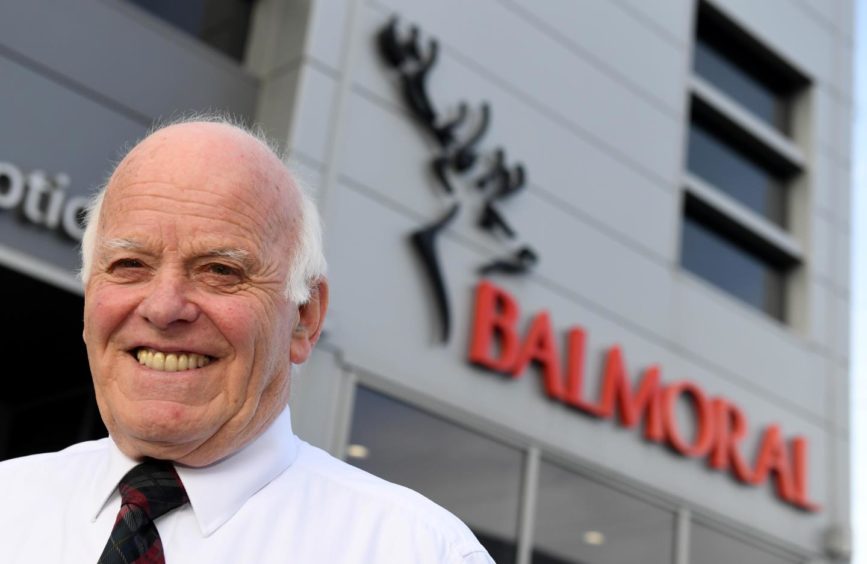 New export markets in renewables are on the cards for Balmoral Group, typically known for its oil and gas buoyancy tech, as its product offering "evolves".
Asked about international opportunities, managing director Jim Milne highlights the importance of the Americas for its core business.
However progress in branching out to renewables is another thing keeping the 80-year-old excited for the future.
The group recently launched a patented cable protection system for offshore wind farms, reducing movement by up to 75% and thereby preventing damage.
Issues around cable protection have been in the press recently, with Danish renewables giant Orsted announcing in its first quarter results it had taken a £93million hit due to problems at its UK and European wind farms.
With the market in place, Balmoral's renewables tech is currently being deployed in Europe and plans are underway to export to the Far East.
Milne said: "We've put a lot of research and development into that, a huge fortune making special test facilities to prove the technology to us and to the client."
On the value of renewables to Balmoral, he added: "Over the next three to five years, (it will be) huge. If we keep making advancements in our technology. It's looking very very good and we're working hard on it."
In 2020, export sales accounted for 77% of group revenues for Balmoral, which took the decision "quite a few years ago" to concentrate on deepwater projects around the world, winning around a 90% share of the work, it said.
North and South America, particularly Guyana and Brazil, remain strong markets for the group, as well as Far East Asia.
Milne said: "We made that decision because we saw that it would only deepwater projects that would be the big boys. They weren't making big finds again in shallow water, it's nearly all deepwater.
"I think we were correct in making that decision and we've made a name for ourselves in that market."
Despite some sizeable gas finds in the UK North Sea of late, a quick comparison to recent discoveries in the likes of Guyana will prove Milne's words wise.
"People dinnae realise that the North Sea is only 150metres, whereas we're producing foam for 7,000 metres", Milne said (in fact, most parts of the North Sea aren't deeper than 90metres).
That focus on deepwater projects is part of the reason why the Offshore Technology Conference (OTC) in Houston has been such a fixture for Balmoral, which joined the 40-trip club back in 2014.
Cancelled last year, and with a question mark over the impact of Covid on international visitors, OTC makes its return this month.
Milne said: "We say Aberdeen is the oil city of Europe, but they're definitely the oil city of the world. The sheer number of people going there.
"You've got huge potential seeing new and existing clients, it's always been an important exhibition."
Balmoral attends Offshore Europe and OTC to serve different markets, and would normally "never dream of missing out" on the Houston event, but won't be attending this year due to the Covid pandemic.
Efforts to export and diversify products and services should bode well in the medium and long term, but the unprecedented conditions of Covid has taken a toll on the entire sector.
The company does still have workers on furlough, while the brunt of the company is working from home amid restrictions.
"A lot of projects have been put on the back burner" Milne said, although he reports that chunks of jobs are now coming back through.
"If the projects are not there, we can't get them, it's as simple as that", he said.
"When the oil price dipped, oil companies weren't making money so they didn't spend it, I don't blame them."
Balmoral has the financial strength to go it alone when it comes to exports, though it didn't happen overnight, taking "a lot of pain and sleepless nights".
Recent decisions by the UK and Scottish governments to end support, with some exceptions, to fossil-fuel-related export activity may have an impact on the supply chain, particularly smaller firms, Milne said.
"It's a shame for small companies because it's them that need that support, somebody to pay for expenses for going to OTC for example.
"We just plough our own furrow and hope its fine and stracht."