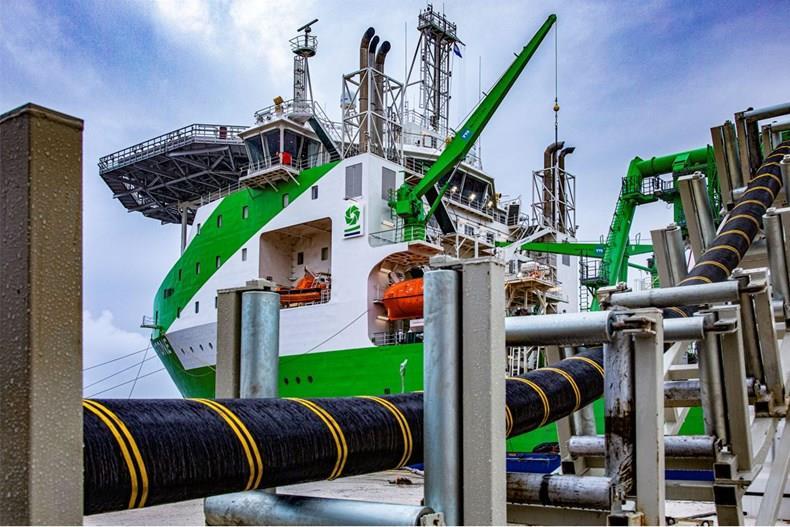 DEME Offshore has secured an EPCI contract to supply and lay inter-array cables at the third phase of the Dogger Bank offshore wind farm.
The announcement follows the award of inter-array cabling at Dogger bank A and B, which the company secured last year.
The scope the new agreement includes the engineering, procurement, construction and installation (EPCI) of the subsea cables for the third, 1.2 gigawatt (GW) phase of the mammoth offshore wind farm.
DEME Offshore said it would supply, install and protect approximately 155 miles of 66 kV inter-array cables and related accessories. Production of the cables for phase C is set to start in 2023.
Installation will be undertaken in 2025 with DEME deploying its DP3 cable installation vessel 'Living Stone', which has also been contracted for the preceding two phases – Dogger Bank A and B.
Dogger Bank Wind Farm is located more than 130km off the North East coast of England and is currently being delivered by joint venture partners SSE Renewables, Equinor and Eni. The wind farm is being developed in three 1.2 GW phases, A, B and C.
SSE is leading construction, expected to be completed in 2026, at which point Equinor will take over as operator.
Once complete, the project will be the largest offshore wind farm in the world, generating around 18 TWh annually, enough renewable electricity to supply 5% of the UK's demand, and equivalent to powering six million UK homes.
DEME'S Living Stone vessel features an in-house designed dual-lane system, consisting of two cable highways, allowing cable laying using one lane whilst the next cable can be simultaneously prepared and have the cable protection system (CPS) installed on the other lane.
The company said the system significantly reduces the time needed for preparing the cables and minimises manual handling, improving overall production rates.
"After securing the Dogger Bank A and B inter-array cable contract earlier this year, we are proud to now also confirm the inter-array cable contract for the Dogger Bank C wind farm," said DEME general manager Bart de Poorter.
"This contract not only demonstrates the unrivalled cable-laying capabilities by our DEME Offshore team, it is also further testament to the stellar reputation of our DP3 cable installation vessel 'Living Stone'," he said.