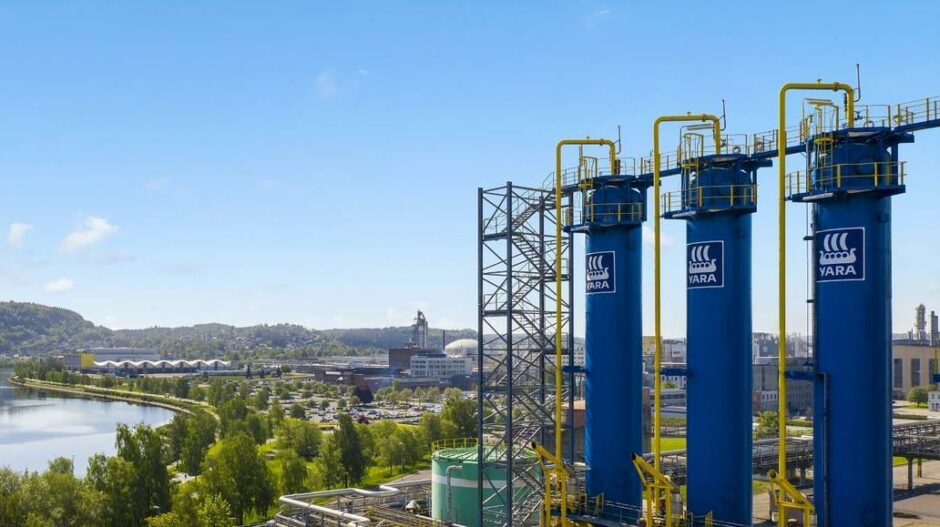 Chemical and fertiliser giant Yara will install a green hydrogen demonstration plant at its ammonia production facility in Porsgrunn, Norway
Yara announced Friday that it had signed a contract with Linde Engineering for the construction and delivery of the project at the Herøya Industripark, south west of Oslo.
A new 24 megawatt (MW) proton exchange membrane (PEM) electrolyser will be installed, with an annual production capacity of around 10,000 kg/day of hydrogen.
The output will be enough to replace about 5% of the plant's hydrogen feedstock, which is currently produced via steam methane reformation of ethane.
The Porsgrunn site covers an area of approximately 1.5 square kilometres and is the largest industrial site in Norway, producing around 3 million tonnes of fertiliser per year.
This will be the second 24 MW PEM electrolysis plant designed and constructed by Linde Engineering, following its first at the Leuna Chemical Complex in Germany.
The electrolyser itself will be supplied by the UK's ITM Power, and will reportedly provide enough hydrogen to produce 20,500 tonnes of ammonia per year which can be converted to between 60,000 and 80,000 tonnes of green fertilizer – roughly five times the annual production of food grade wheat in Norway, according to Yara.
The project will be the "first step towards decarbonisation of the ammonia industry," the company said.
ITM said its equipment is due to be ready for shipment from in Q4 2022, with revenue booked in its 2022-23 financial year.
Yara Clean Ammonia president Magnus Ankarstrand said the project would aim to supply its first green ammonia products to the market as early as mid-2023, both as fossil-free fertilizers, as well as emissions-free shipping fuel.
"Green ammonia is the key to reducing emissions from world food production and long-distance shipping. With this project, we move from intention to actions together with Linde Engineering and local contractors," he added.
ITM chief executive Dr Graham Cooley added: "Decarbonisation of industry is critical to achieving the commitments of countries to reduce greenhouse gas emissions. Globally, the largest use today of hydrogen produced from hydrocarbons is in the production of ammonia for fertilisers. This use has to be curtailed and eventually eliminated.
"We are very pleased to be working with forward-thinking producers such as Yara and the Norwegian Government to address this issue."
The plant follows similar plans drawn up in 2020 between Yara and wind developer Orsted, which envision a 100-MW wind powered electrolyser plant for renewable hydrogen production at Yara's Sluiskill plant in the Dutch province of Zeeland.
The renewable energy would be supplied by Ørsted's offshore wind farms, including the Borssele 1&2 located off the coast of Zeeland.
Recommended for you

ScottishPower and Storegga to 'transform the Highlands' with green hydrogen