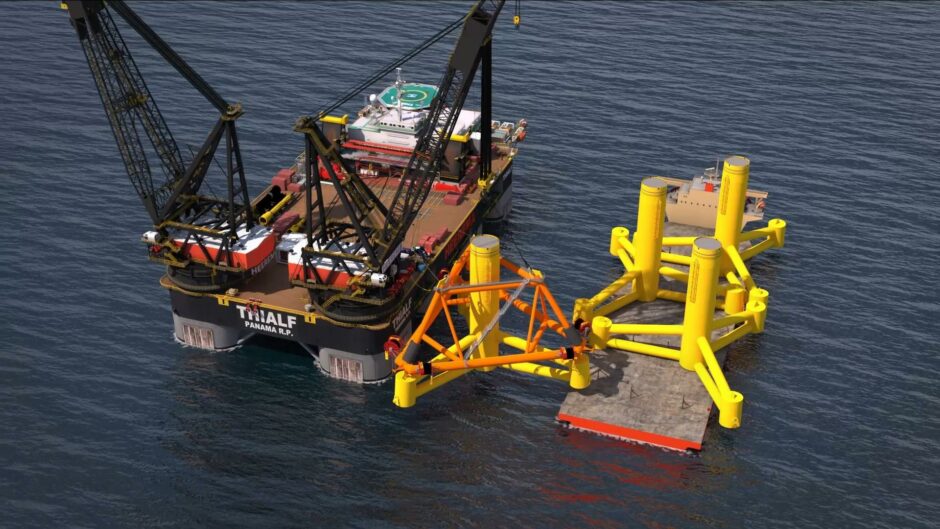 Marine contractor Heerema has developed a new method for the installation of floating wind turbines, which it says will cut down on onshore space requirements and reduce industry bottlenecks.
With an increasing number of floating projects now moving forward, supply chain firms and contractors are beginning to plan installation windows and the roll out of new technology in earnest.
Heerema says its newly devised "floating to floating" installation method was developed to deliver solutions to longstanding challenges, such as the efficient use of resources like steel and port infrastructure, offshore logistics, and how the sector can meet the required scale and rate of installations.
Various methods have been proposed involving assembling floating foundations (floaters) in port before wet-towing to the field. This presents logistical challenges and adds to the pressure on the number of suitable harbours and quayside space near to the project site.
The proposed method does not require wet-towing and removes the need for marshalling yards. Instead, floaters can be constructed on land before being dry-towed on a transport vessel to the location.
They can then be installed using a floating installation frame, which submerges the foundations down by weight, removing the need for high-tech ballasting or tensioning systems and reducing installation duration.
The bottom foundation work can also be executed in parallel, using the same suite of semi-submersible crane vessels – again saving cost and deployment time.
A video posted by Heerema shows the process in its entirety.
It also allows "low-tech" designs to be used, removing the need for complex ballasting provisions within each floating structure, which may also help reduce cost and speed up the installation process.
Heerema's business unit director for wind, Jeroen van Oosten noted: "We want to show an alternative solution for installing offshore floating wind, especially targeting some of the bottlenecks for scaling up. We strongly believe that by opening up to new ways of working and collaboration floating wind can reach the potential the industry is looking for."
New solutions such as Heerema's will be of particular interest for the Scottish supply chain as a wave of floating projects reach fruition following the ScotWind auction round. Ports across the country are scrambling to secure investment and expand their capabilities, yet the 25 GW of secured capacity is still likely to prove a challenge.
By removing the need for in-port assembly, the floating-to-floating installation method requires less space and draught in the ports, as well as reduced quayside capacity.
Heerema says this will also help avoid "one-off mega-investments in port areas," instead allowing for multi-port strategies that may prove more efficient.
Recommended for you

Asia's offshore mega wind farms risk delays from ship shortage