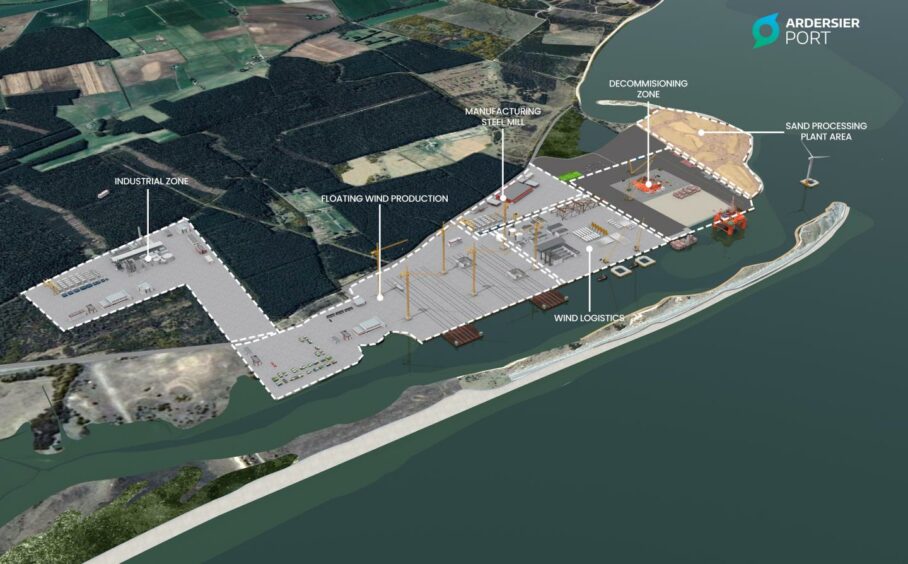 Multi-million pound works to bring a mothballed Highland harbour back up to speed are due to kick off in the coming days.
For many years, Ardersier Port was one of the largest oil rig fabrication yards in the world, employing as many 4,500 workers.
But in more recent times the facility, around 14 miles east of Inverness, has lain unused, with offshore construction work going overseas.
Now new owners are revolutionising Ardersier – which, at 400 acres, is the largest brownfield port in the UK – with the hope of transforming it into Europe's first fully circular energy transition site.
Under the ambitious plans, the facility, which shut up shop in 2001, will recycle retired oil rigs to make foundations for future fleets of floating offshore wind farms.
It is expected that thousands of jobs will be created at the site as a result off the revamp.
The UK's largest floating wind fabrication facility
In order to open up the port's half a mile long quayside, work is about to kick off on a £20 million, nine-month 'capital dredge' programme.
As much as 2.5 million cubic metres of sand, equivalent to 1000 Olympic swimming pools, will be removed as part of the operation.
By opening up the port once more, Ardersier's owners can begin pushing ahead with their five year plan to turn it into an oil rig decommissioning facility.
It will also be home to a waste from energy recovery facility and a £300m green steel plant, powered by offshore wind and energy from waste – it will be the UK's first new steelworks in 50 years.
Sand cleared during dredging will also be utilised to create concrete, with a new production plant planned at the site.
The facilities will combine to make Ardersier Port the largest floating wind foundation fabrication, manufacturing and assembly facility in the UK.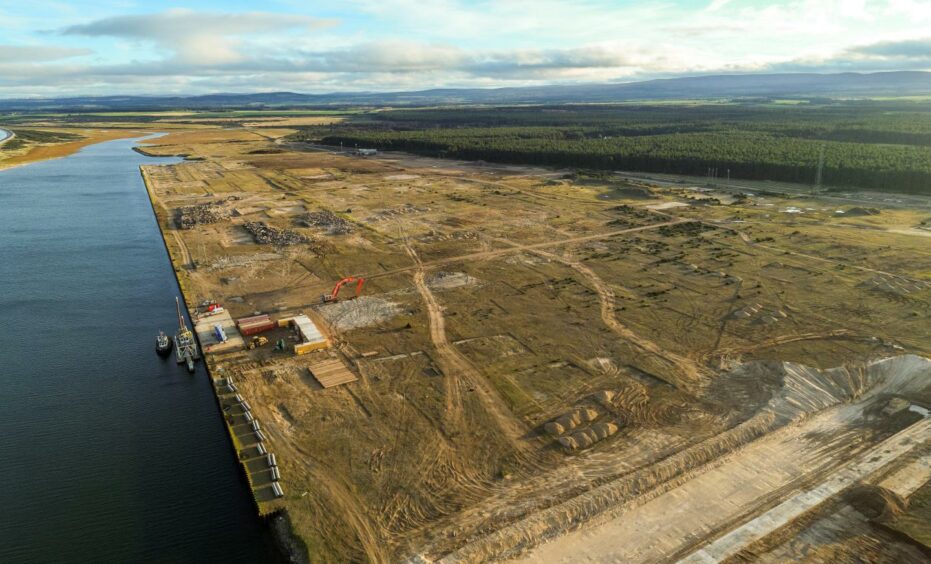 BW Ideol partnership
In order to support their ambition to make Ardersier a hub for the emerging renewable technology, the port's owners have struck an agreement with industry heavyweight BW Ideol.
Announced in September, the deal guarantees the company – a joint venture between Ideol and BW Offshore – exclusive access to the port for the manufacture of its concrete floating wind foundations.
Once the dredging is complete, expected next summer, Ardersier will build a bespoke slipway, allowing floating oil and gas structures to be hauled onshore prior to removing all contaminants and decommissioning them.
Steve Regan, Ardersier Port owner, said: "The UK has set a world leading net zero target to build back better, support green jobs and accelerate our path to net zero. At Ardersier we can lead the UK's Green Industrial Revolution by using circular economy practices to deliver new low carbon infrastructure built on the by-products of our oil and gas past. This is a once in a generation opportunity to create a world-leading industrial and offshore wind manufacturing facility here in the UK.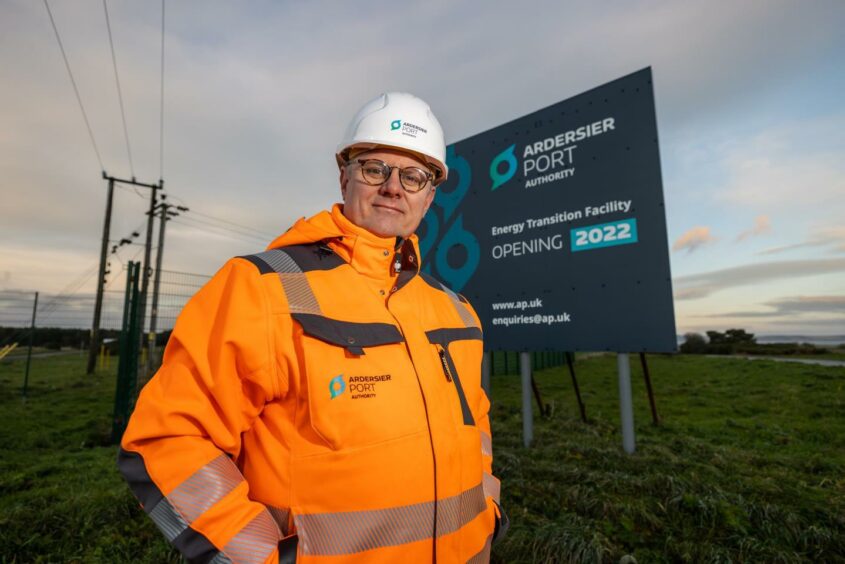 "It is a simple plan where each element makes commercial sense as a stand-alone project – but when combined, the benefits to the economy, and the environment, are multiplied."
Decom and offshore wind
Decommissioning and offshore wind are two markets that are on course to flourish in the coming years.
A recent report from trade body Oil and Gas UK estimates that there will be more than a million tonnes of North Sea topsides coming ashore this decade.
It also tipped total UK spend on decommissioning to top £16 billion by 2030.
Meanwhile, Scotland is currently in the midst of an offshore wind fest, with the results of the Scotwind leasing round due out in January.
The process allows would be developers to secure areas of seabed that can be used to house offshore wind farms.
Among the bidders is BW Ideol, which is part of the Floating Energy Allyance alongside partners Elicio and BayWa r.e.
The group has pledged to manufacture all its floating concrete foundations in Scotland, creating almost 4000 jobs.
Paul de la Gueriviere, BW Ideol's chief executive, said: "The lack of large infrastructure is a bottle neck to deliver the number of floating foundations required for the UK market's ambitious development plans, both in terms of local content and the production rate expected. Ardersier Port is a unique facility to unlock these constraints.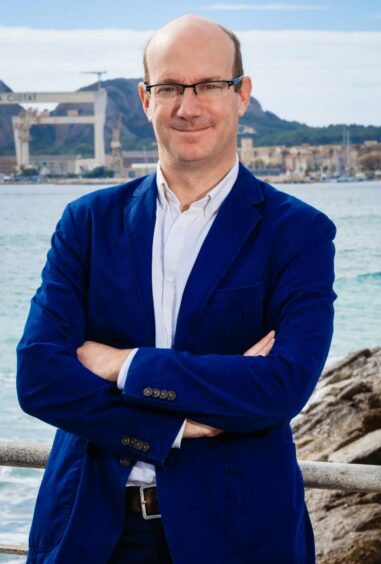 "In comparison to steel foundations, floating wind offers a unique opportunity to combine both price competitiveness and local manufacturing, thanks to BW Ideol's unique concrete floater solution. As an early mover in the market, we have engaged with the port's owners for several years, sharing a joint vision to create a circular and sustainable local supply chain.
"By securing exclusive access to Ardersier Port, BW Ideol is reaffirming its commitment to manufacture its floating foundations locally, maximizing the benefit for Scotland and the rest of UK, without conditions."
The 'important missing factor'
Ardersier Port is the site of the former McDermott oil and gas fabrication yard.
It was acquired by Mr Regan, the former CEO of civil engineering firm Careys, and business partner Tony O'Sullivan, in July for an undisclosed fee.
The pair set up Ardersier Port (Scotland) in May and registered the business in Fraserburgh.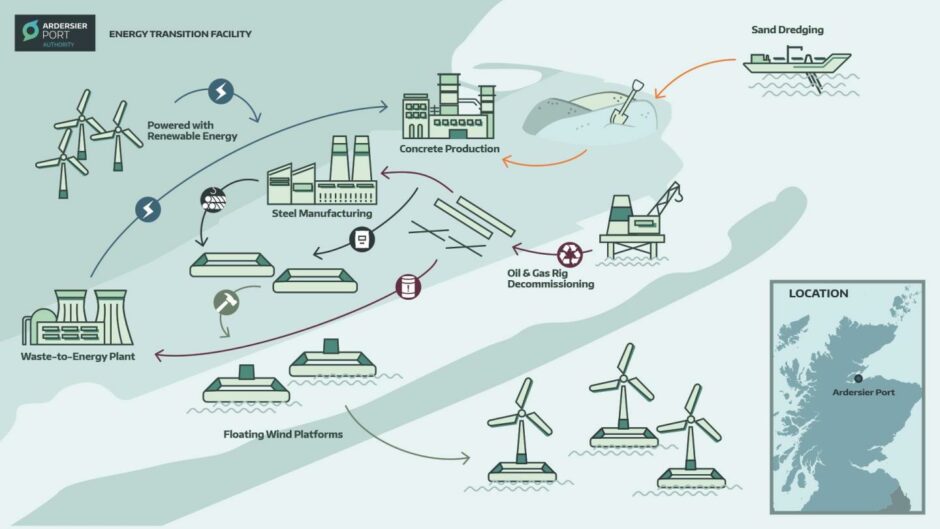 Mr O'Sullivan said: "The energy transition from offshore structures to floating wind has an important missing factor: steel. Today, the UK exports ten million tonnes of scrap steel annually. By building a new renewable-powered electric arc furnace at Ardersier Port, the first new-build steel mill in the UK for 50 years, we will utilise a million tonnes of scrap each year.
"This will produce reinforcement steel for the UK construction industry, of which there is currently a shortfall, allow for the onsite construction of floating wind platforms, and enable us to export green steel to global markets.
"This strategic approach has been backed by a recent independent report by Zero Waste Scotland[iii] and once complete, our green steel mill will be revolutionary: it will be the only place in the world where the scrap from decommissioning is processed into steel. Once operational, this plant alone will generate 300 high quality permanent low carbon jobs."
A 'crucial' decom facility
Earlier this month the UK Government announced up to £160m in new funding to kickstart the rollout of large-scale floating offshore wind ports and factories across the country.
It is expected that Ardersier Port will throw its hat into the ring to try and secure some of the cash on offer.
The plans at the facility have been welcomed by OGUK, with Joe Leask, the trade body's decommissioning manager, describing them as "crucial" in supporting the transition to a low-carbon economy.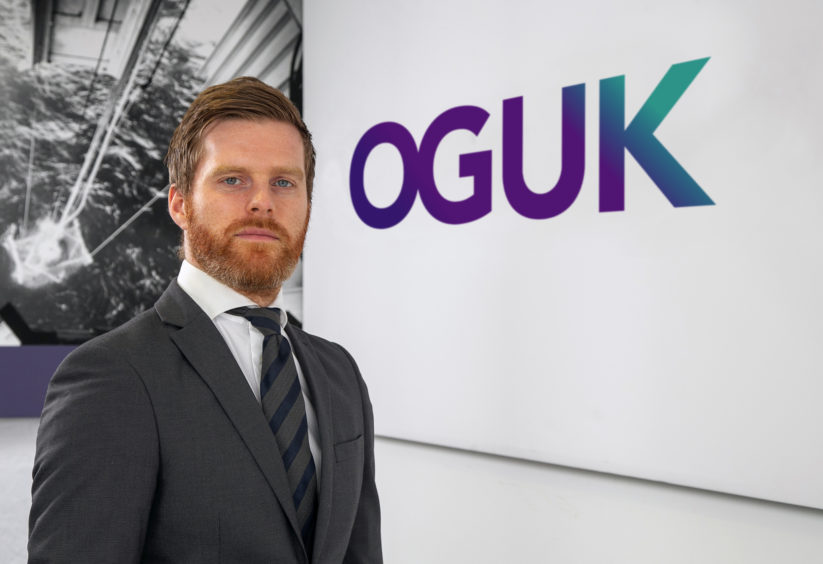 He added: "The North Sea Transition Deal our industry has signed with the government commits us to help the nation cut its emissions. That will include building thousands more wind turbines, plus facilities for capturing CO2 and producing hydrogen from natural gas – all requiring new offshore infrastructure.
"At the same time, we are decommissioning many ageing oil and gas industry assets from which we will recover more than 100,000 tonnes a year of steel. Projects like Ardersier will help create a circular economy where, instead of generating waste, these old structures become the foundation for the nation's energy future."
Gavin MacKay, head of energy industries at Highlands and Islands Enterprise, added: "We are encouraged to see Ardersier Port being actively developed to support the offshore energy industries. This was the original purpose of the site and one to which it is still well suited.
"Offshore wind, in particular, is poised for significant growth, and the facility offers real potential for the local production and assembly of the large components that will be required by that industry. We look forward to working alongside Ardersier Port and their strategic partners in pursuit of their goals."
Recommended for you

Floating forecasts: Key questions on the skills challenge for floating wind