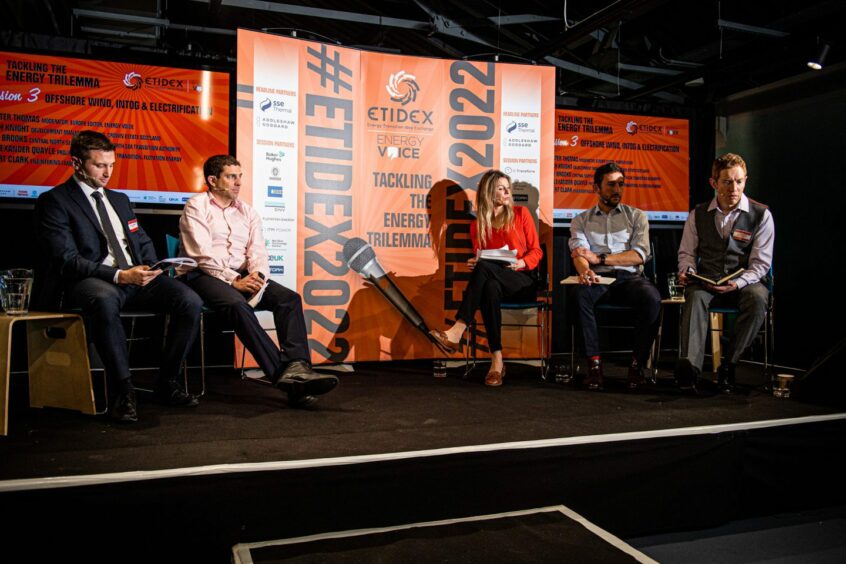 Energy Voice's ETIDEX 2022 event rounded off a call to action on oil and gas decarbonisation through floating offshore wind.
Chaired by Europe editor Allister Thomas, the Offshore Wind, Innovation and Targeted Oil and Gas (INTOG) and Electrification panel focused on the importance of acting now for the supply chain and to meet vital decarbonisation targets.
The panellists included Andy Brooks, central North Sea area manager at the North Sea Transition Authority, Robert Clark, engineering lead at BV Solutions UK, Sarah Knight development manager (leasing) at the Crown Estate Scotland, and Dr Alexander Quayle, project director for energy transition at Flotation Energy.
INTOG is a seabed leasing round, which covers smaller "innovation" projects for floating wind and "Targeted Oil and Gas" developments to decarbonise offshore assets through electrification – applications close on November 18.
It comes as the panelists highlighted incoming targets of the North Sea Transition Deal (NSTD), which demands a 50% reduction by 2030 for the UK's offshore installation.
The projects also need to come ahead of larger, gigawatt-scale ScotWind projects soon to be on our horizons, and offer Scottish and UK suppliers the chance to build up their capabilities ahead of that.
Dr Quayle, whose company has a proposal with CNOOC in the North Sea for electrification, gave a strong statement to ETIDEX on the need for pace.
"Speed is absolutely critical to making this happen, INTOG is going to come ahead of ScotWind in terms of delivery, it simply must, because if it doesn't deliver fully decarbonised oil and gas within the next five or six years then there's simply no point in doing it."
Mr Brooks said: "The NSTD is a clear target, it's an industry target and the industry has to find a way to meet it and I haven't seen any projection that says that can be met without electrification on some scale."
Energy Transition Idea Exchange closing remarks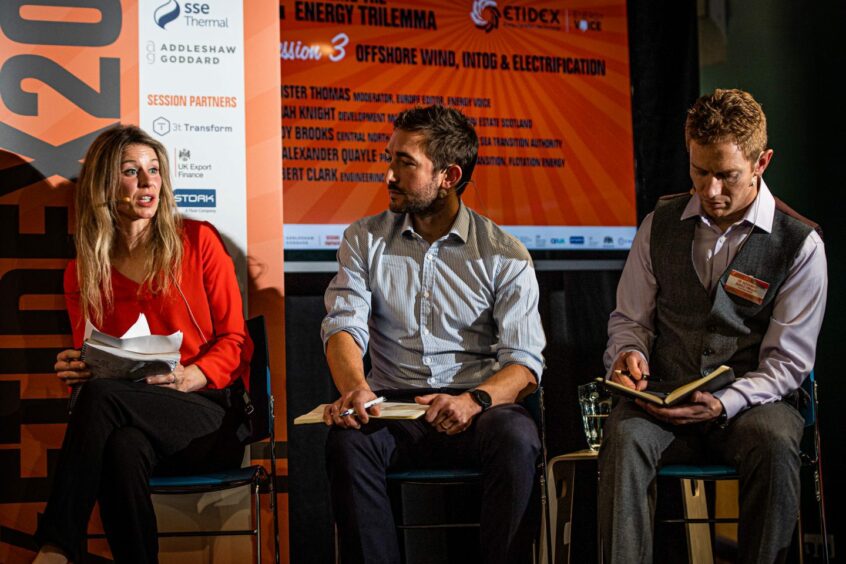 Rounding out a day of forward-thinking discussion at the Energy Transition Idea Exchange at the Aberdeen Science Centre, the panellists discussed what they believe the audience should take away from the event's final session.
Sarah Knight of Crown Estate Scotland said: "This leasing process is part of Crown Estat Scotland's commitment to providing an opportunity for the expansion of offshore renewables in Scottish waters.
"But it will take the Government and industry to make those decisions on how to realise that opportunity and we can't really emphasise that enough."
The North Sea Transition Authority's Andy Brooks said: "I think INTOG and wind is the future, oil and gas is going to be here 10 to 15 years but this is a real chance to build a legacy way beyond oil and gas.
"It's great to be in an organisation that is front and central in that transition."
Mr Clark described the Crown Estate Scotland's leasing process as a "very exciting opportunity for the whole of the supply chain", further adding: "If we want to deliver on ScotWind, ultimately we need to make INTOG happen now."
Dr Quayle shared the sentiment to close out a day of thought-provoking discussion on the energy transition, saying: "You look at ScotWind and you say it's too important that that comes forward but also how do you get to those projects, which are of gigawatt scale?
"And how do you get there in 10 to 12 years time?
"It's a huge opportunity, electrification is not new, almost every facility in the energy sector plan to be electrified, many of them are already on the grid.
"We have here a really important need for renewable power."
ETIDEX 2022 Session 3 – Offshore wind, INTOG & Electrification can be watched on demand, here.
Recommended for you

TotalEnergies eyes 2025 start-up for Culzean electrification project (exclusive)