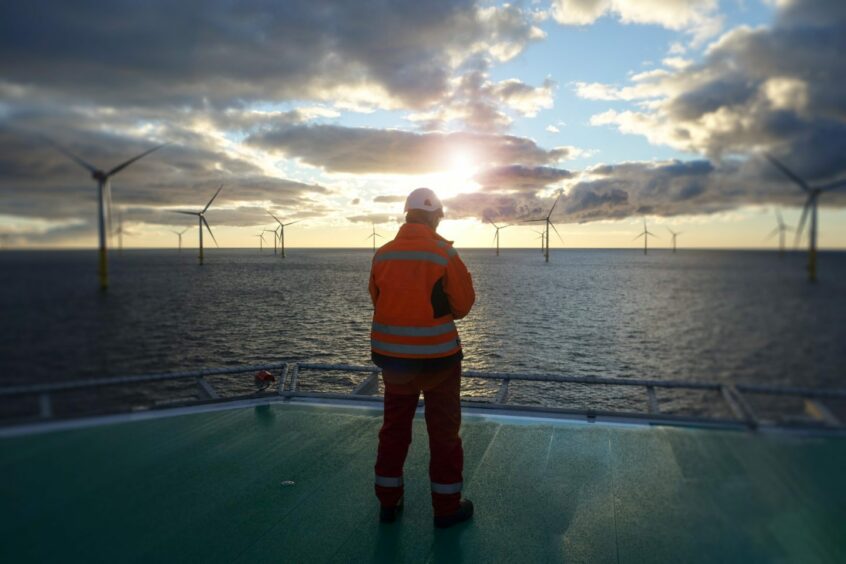 Disparity in pay between workers in oil and gas and offshore wind needs to be addressed for the energy transition take place in earnest, according to a recruitment boss.
At the beginning of December, Offshore Energies UK (OEUK) published its annual workforce insight report which identified skills shortages as a barrier to the energy transition.
However, enticing workers from the energy oil and gas with the the skills to work in offshore wind is not necessarily an option, according to a recruitment chief, due to disparity in rates.
Danielle Wood, global compliance director at Advance Global Recruitment, based in Aberdeen, said addressing pay, and consistency of shift patterns for offshore wind workers could help.
"The day rates are not there and it's very heavily dependent on the weather as well, when you're on an asset in the North Sea, unless it's horrific conditions you're still working.
"Whereas our feedback on wind is that they could be away and actually only working for three days out of maybe the eight due to weather conditions. So we're seeing quite a bit of that."
Pay and 'softer incentives' to entice offshore wind workers
In the year just passed, a plethora of strikes have highlighted the issues oil and gas workers in the North Sea have had with the industry, namely the three on/ three off rotas that have been a point of contention for a while.
This begs the question, could the offshore wind sector solve its skills shortage issue by offering more accommodating shift patterns?
However, Ms Wood says "consistency is what people are looking for."
"Guys always want to be at home more than they're away.I've got a husband that works offshore and he's three and three."
She joked: "Whilst I'm quite happy with that, I'm sure he would prefer the two and three.
"It's going to have to be softer benefits if you want to entice people because the rate is gonna be the rate until we see it getting to a different stage, so maybe the two and three on the vessel may well work, but certainly at the moment, consistency is what people are looking for."
'Poaching' staff from outside the energy sector
With the oil and gas workers showing reluctance to move to renewables, wind operators have begun "almost poaching people" from other sectors, according to the head of renewables at AIS Survivex, Charlie Guthrie.
In trying to fill the gaps "they are trying different routes but oil and gas isn't one of them," Mr Guthrie explained.
"They go into the utilities like the national grids, type companies, and almost poaching people from there. They're looking at people coming out of college with mechanical electrical qualifications.
"They are going to oil and gas less because it's not an easy win for the wind industry, probably for a lot of the reasons Danielle was mentioning, and they're only gonna come up against resistance."
Regardless of the issues the wind sector is experiencing, there is still enthusiasm from people around moving into careers in the renewable sector.
Guthrie said: "Wind is still seen as the way forward, the people I speak to say ' want to get into wind because I know it's gonna be there for decades to come'.
"If you're trying to poke someone from oil and gas, that maybe isn't the sell directly because it's all 'come to our sector where we pay less wages on a worse rotation in a repetitive kind of job'."
A 'generational' issue
AIS Survivex's head of sales, Chris Bews, also explained that the wind sector is running into a "generational mindset" in some instances when trying to bring oil and gas workers over to green energy.
"As we move not net zero, oil and gas is seen as a dirty industry," said Mr Bews "the transition needs to be sorted and supported in a sustainable fashion.
"You can't turn the tap off oil and gas and maybe the older people in the workforce are probably quite happy to go where there is solid employment.
"Whereas the younger generation, not to tar everyone with the same brush, is probably much more perceptive to environmental factors which are obviously becoming much bigger."
'Plenty of jobs for everybody'
Even though the wind sector is looking to areas outwith oil and gas for recruitment at the moment, "there's plenty of jobs for everybody" after we country reaches its net zero targets, according to Mr Guthrie.
"Look at ScotWind, there's a lot of oil and gas companies bought into that, BP and Shell spring to mind immediately. They will naturally keep their own employees."
"Where you've got your oil and gas companies that aren't directly buying into wind people that are saying 'well those companies will be no more', I don't think that will happen.
"I can't imagine a board of an oil and gas based company at the moment isn't looking at their business and saying 'how do we diversify this?' into not just wind but into carbon capture, hydrogen and nuclear."